Most sweets offer two choices, indulge your sweet tooth and antagonize your weighing scale which retaliates by showing numbers you do not want to see in the morning or give up sweets and antagonize your sweet tooth.The Sesame sweet Roti is a good way to indulge the sweet tooth without too many calories since it uses jaggery which I believe is better alternative to sugar or other processed sweeteners.
The second and the more important reason for making this dish for me was an article I read about the health benefits of sesame.Who knew that the sesame has such a lot of health benefits.It seems among various health benefits sesame helps in lowering cholesterol and blood pressure,it also helps prevent and reduce migraines and helps protect the body from free radicals.
You can find the entire article on the health benefits of sesame
here
.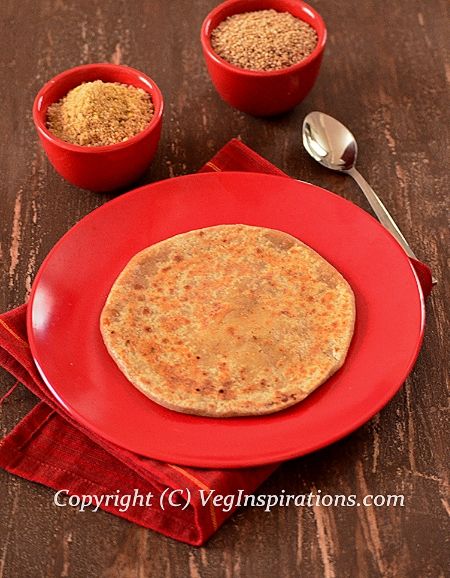 Click here for a printable view of this recipe
Ingredients and method to make the Sesame sweet roti.
For the filling
1/2 cup sesame seeds (washed,drained and dry roasted)
1/2 cup jaggery
For the dough
1 cup wheat flour
a pinch of salt
2 tsp of oil (optional but recommended)
Sufficient water to make the dough
A little ghee or oil to cook the roti's
1.Powder the roasted sesame and the jaggery to a texture resembling bread crumbs in the blender.Keep aside
2.Mix wheat flour and salt well, then make a soft pliable non sticky dough with the wheat flour adding water as required and the oil if using, and keep covered for at least 30 minutes
3.Make lemon sized balls and roll out into a small circle.
4.Place about 1 1/2 tbsp of the powdered mixture in the center of the rolled out dough and fold the ends of the dough over the mixture pressing it gently to seal it.
5.Roll out this dough again into a slightly thick pancake sized circle with a light hand.
6.Heat tawa/griddle and place the roti on it and cook each side applying a little oil or ghee. Serve hot as a snack or a side dish.
Yields approx 10
Notes :
While roasting the sesame,remember to keep a lid handy and the stove on medium or medium high as the sesame seeds tend to pop and jump out.
The sesame jaggery mixture can be made ahead and kept in a cool dry airtight container.
A variation on the dough could be 1/2 cup all purpose flour (maida ) and 1/2 cup wheat flour
This is my second entry to the
Roti mela
hosted by Srivalli
This is my entry to
Puran poli and Sweet Chapathis/Rotis
hosted by Mythreyee