Phulka can best be described as soft wheat flat breads that are a staple in most Indian homes. It's definitely a staple in mine, I end up making phulkas at least a few times each week, if not more often :) Surprising then that I haven't posted this recipe in this space for so long, but the thing is that oftentimes items I make frequently get deferred because I keep thinking I'll get some other chance to take pictures and such and it keeps getting put off. Finally I decided not to put it off any longer and got a chance to take the pictures and even managed to get a short video clip that I hope explains the process clearly.
I've heard a lot of people say that making phulkas is quite difficult, but I think that phulkas are actually the simplest kinds of bread. It requires just two essential ingredients, whole wheat flour & water, and with the right technique and you can enjoy soft delicious phulkas with any kind of Indian curry or dhal. If you are wondering what the difference is between chapathis and phulkas, chapathis are cooked entirely on a flat pan/ tawa whereas phulkas are made by semi cooking the bread on a flat pan / tawa and then flipping over and cooking it on an open flame. Once on the flame, it puffs up fully and you have a soft, tender bread that is so essential to so many Indian meals :)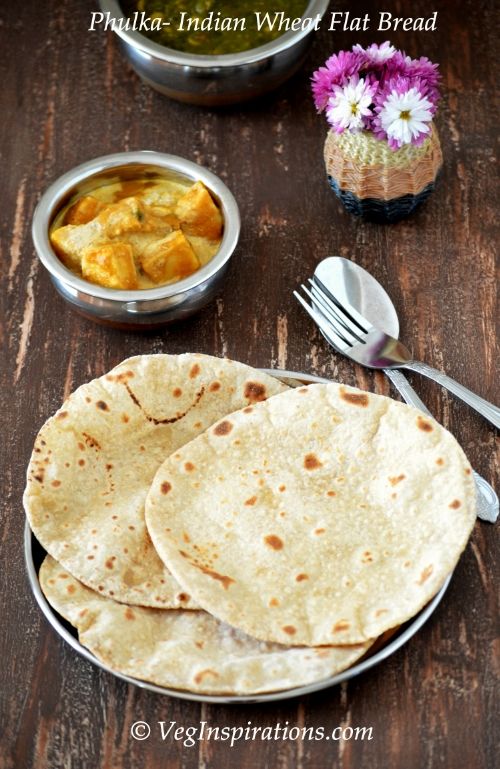 Click here for a printable view of this recipe
Ingredients
and Method to make phulka
1 and 1/2 cups good quality whole wheat flour (atta/ godumai maavu)
Salt to taste (optional)
Water as required ( I needed water just a little shy of 3/4 cups for this qty of flour)
A little clarified butter/ghee/nei to apply on the phulkas (optional) (skip this for a vegan version)
A little extra flour for dusting.
Add whole wheat flour to a large bowl. Add salt if using and mix well. Add water slowly and knead dough to a soft and non sticky consistency. Keep the dough covered and allow to "rest" for
at least
30 minutes.
The copyright of this content belongs to
Veginspirations.com
Divide the dough into equal golf ball sized balls. With a help of a little flour roll it out into a thin even circle. Make sure the dough is not rolled out too thin, that is, it should not be almost transparent, then it will not puff up, also if you have an unevenly rolled out dough, it will puff up in some areas and not the others.
Heat a flat pan/ tawa on medium heat. When hot, place rolled out dough on the pan. When you can see tiny bubbles appear on the side facing upward, flip over and cook the other side. When the other side gets tiny light brown spots, remove, flip and place directly on medium high flame until it puffs up fully. The side that was on the top will be face down on the flame, and the lower side will be on the top.
Remove from heat and place on plate/ tray. If you are planning to apply clarified butter/ ghee, apply a small drop and spread on phulka. When having the phulka hot , I feel it does not need any ghee, if you are planning to make the phulka ahead of time, then a tad bit of ghee keeps it softer. Proceed with rest of dough in the same manner.
Serve hot with choice of curry/ dhal.
Here it the video clip of the process......
Notes:
Please use tongs to flip and place the phulkas on heat.
If you do not have a gas stove and use an electric coil type of stove. You can still make phulkas using a wire mesh with a long handle. I got this at an Indian grocery here and I used it earlier when I had an electric stove and it worked fine. Keep the wire mesh on the coil, heat on high, when the phulka is cooked on the tawa/ flat pan, flip and place on the stove with the wire mesh and allow it to puff up fully. Remove from heat and serve hot.