When things go wrong, every additional nuisance that can happen will probably happen and make things worse. At least that seems to be the case with me, I was already having a bad day with other stuff and then I entered the kitchen and was looking forward to a soothing cup of tea and the tea cup slipped from my hand and my tea got spilled ! " No please not my tea " was the first thought that ran through my mind. Then to make matters worse, when I started dinner I found that my pressure cooker malfunctioned and decided to spew dhal water all over my stove and my counter tops.Bah ! I hate when this happens....
So what do I do next, well first I clean up the entire area and restore my kitchen back to spic and span order.Then in addition to making dinner I make dessert ! Surprised as to why I would add to my work load when I have already had such a bad day....Well a little sweet always seems to make things better. No wonder stressed spelled backwards is desserts ! And this pedha is very quick and can be made entirely in under five minutes. Pedhas as I mentioned in
this post
are a family favorite and I made this hoping that a quick sweet treat makes my day just a little better and more bearable.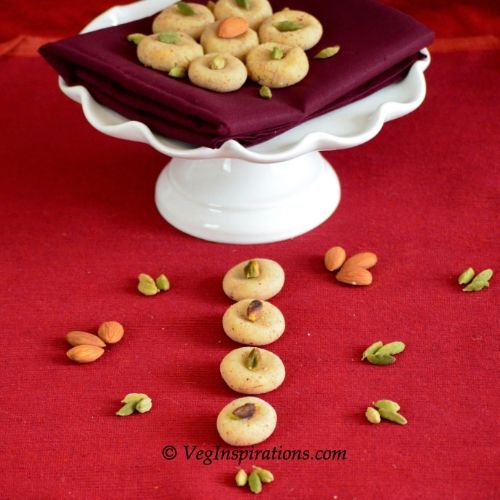 Click here for a printable view of this recipe
Ingredients and Method to make 2 minute almond pedha
1/2 cup almonds
1 1/4 cup instant non fat dry milk (fine milk powder)(I used carnation milk powder) (see notes)
4 to 5 cardamom seeds powdered fine
1/2 cup sweetened condensed milk
3 tbsp plain milk
2 pinches of good quality saffron (optional)
3 to 4 tsp of clarified butter (ghee/nei) (optional but recommended )
Powder 1/2 cup almonds along with skin to a fine powder in a spice grinder using pulse feature on blender. Try not to over grind as the nut butter will cause the almond powder to start clumping together.
In a shallow microwave safe dish, mix together almond powder/ almond meal, non fat dry milk, cardamom seeds powder, saffron (if using) and mix well.
Add sweetened condensed milk, milk and clarified butter (if using) to this and mix well. This will cause a kind of lumpy mixture.
Place the shallow dish in the microwave and heat on high for 1 + 1 minute, stirring frequently or until the mixture can be rolled between your fingers. Cool slightly and shape into round balls and flatten slightly to form the typical pedha shape.
Cool thoroughly and place in an airtight container and use within a couple of days of making it, or refrigerate and use within 4 days or so for freshest taste.
The copyright of this content belongs to Veginspirations.com
Yield approximately 14 to 15 pedhas
Notes
Since microwave strengths will vary,cooking times can also vary, so it may take you longer or shorter so keep an eye on this when it is getting done. My microwave strength is 1000 watts, so if yours is more powerful you will need to microwave it for lesser time and if yours has less strength it will take a little more time.
Also since I used a shallow dish, my cooking time was faster, if you use a deeper dish it may take you a bit longer
If the milk powder you have has a very thick granular texture, give it a turn in the blender/ mixer to grind it to a fine powder