Ever since I tried
this buckwheat upma
, I have been devising ways to use buckwheat in traditional cooking in my mind. Buckwheat is so healthy that I have been wanting to include it more often in our diet. To learn more about the health benefits of buckwheat, check out
this post
. Initially I thought I would try to powder buckwheat and see how it works out in dosais. Conveniently before I made the effort, I came across some buckwheat flour in my local grocery and happily purchased it.
The very next day after I purchased the flour, I tried an instant dosai with it and I have to admit I was blown away at how awesome it turned out. The dosai was crisp on the outside and soft on the inside, just the way I love it :) It was obviously quick, cannot get quicker than instant in dosais, and between the buckwheat and the flax it packed in a good bit of nutrition too :) I've made this a few times since the first time I tried it and have enjoyed it every single time. This last time I made it with some of
this potato curry (potato masala curry)
and loved the combination. So far buckwheat has been a huge winner in our home, cannot wait to try it in some more traditional Indian recipes :)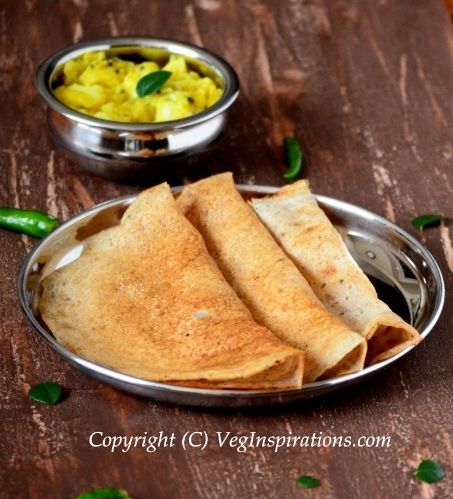 Click here for a printable view of this recipe
Ingredients and Method to make Buckwheat dosai (savory crepes)
1 cup buckwheat flour (kuttu ka atta)
1/2 cup rice flour (chawal ka atta/ arisi maavu)
1/4 cup flax seed meal (optional, see notes) (powdered alsi/ ali virai)
salt to taste
Seasoning
1 to 2 tsp coconut oil
1 tsp cumin seeds
1 Thai or Indian variety green chili cut fine (or to taste)
a little sesame oil to shallow fry the dosai
In a large bowl mix together buckwheat flour and rice flour well. Add flax seed meal if using and mix well. Add water a little at a time to make a thick batter of pouring consistency. Buckwheat flour seems to get a slightly gelatinous quality when water is added to it, not too much just a tad bit, but this quality makes it easy when making the dosai / crepe. When in doubt err on the side of a thicker batter, you can always add a little more water later to achieve desired consistency.
Add salt to taste to the batter and mix well. In a small pan, heat oil add cumin seeds, when the seeds sizzle add green chilies. When the green chilies splutter a little pour the entire seasoning on the batter and mix well.
This batter can be used immediately or can be stored in the refrigerator for a few days.
The copyright of this content belongs to
Veginspirations.com
To make the dosai / crepes
Heat a flat pan/ griddle/ tawa on medium heat. When hot pour a ladle of batter in the center and quickly spread into a circle. Spread very thin for a crispier dosai and a little thicker if you want a soft dosai. Add a few drops of oil around the circumference of the dosai. When the lower side is golden brown flip over and cook the other side until it has small brown spots.
Remove and serve with
chutney of choice
or with
this potato curry
for a little more filling meal or with
this spice powder
or
this sambar
or any combination of the above four choices :)
Notes:
The flax seed meal is completely optional, I have made this dosai both with and without the flax seed and it does not impact taste substantially and it is not added for binding in this crepe as well, just for added nutrition. So you can leave it out completely if you wish. Additionally for this quantity of buckwheat flour you can add anywhere from 2 tbsp to 1/4 cup of flax meal as per choice.