One of my absolute favorites in fresh herbs is cilantro.The fragrance of cilantro,the taste and flavor it imparts to food is really incomparable. There are a whole host of dishes I would not even attempt to make if I do not have cilantro at hand like tomato rasam or choley. Although cilantro is just for garnish in these dishes,the lack of this garnish makes a substantial difference to the final taste of this dish.
On my last trip to the grocery store I bought a lot of cilantro with the plan of making some chutney for sandwiches,but as it often happens my plans for the week changed and this was one of those weeks that did not seem to be much for sandwiches.I have never used cilantro as one of the main flavors in a rice dish and thought it would be a nice change to attempt to use the cilantro in such a manner.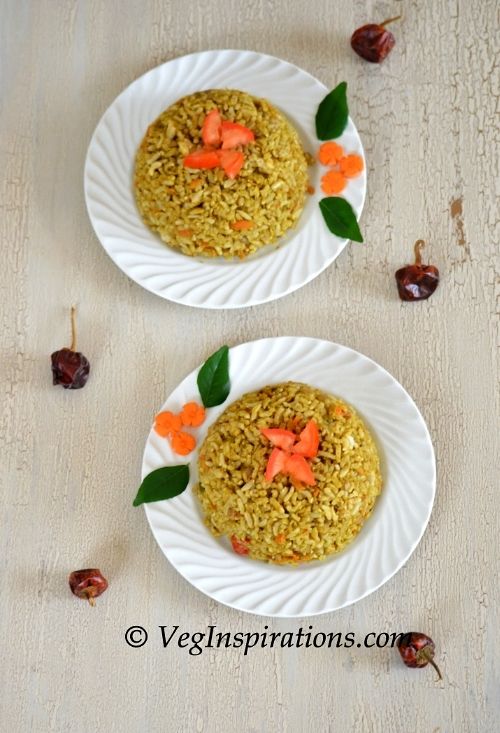 I had this recipe of methi rice that my mother in law had given me eons ago.That recipe has never been used by me since every time I get fresh methi it gets used in parathas/theplas rather than in rice.I decided to adapt the basic idea of the methi rice and use it in making the cilantro rice and gave it another twist by adding vegetables too, to make this a complete meal by itself.I used brown rice in this dish, although it can easily be made with white rice too. It was such an immensely flavorful and delicious rice, even when it was cooking the entire kitchen was so fragrant from the spices and cilantro that I just loved this dish even before I tasted it :)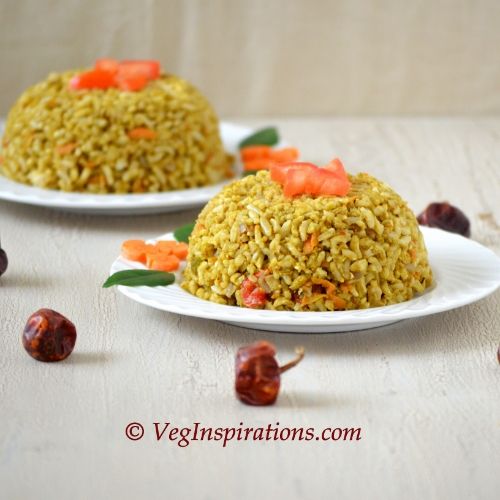 Click here for a printable view of this recipe
Ingredients and method to make the cilantro mixed vegetable rice.
1 and 1/2 cup brown basmati (or long grained white rice, see notes)
1 large red onion ( cut fine )
2 medium tomatoes cut fine
2 carrots grated fine (see notes)
1/2 cup mixed bell peppers (capsicum/ koda molagai) deseeded and cut fine (can be substituted with green peas) (see notes)
1 cup packed chopped cilantro (coriander leaves/ hara dhania/ kothamalli )
1 inch piece ginger (adrak/inji)
1 tbsp oil
salt to taste
For the powder
2 tsp coriander seeds (dhania/ kothamalli virai)
1 and 1/2 tsp split black gram lentil (Udad dhal/ ulatham parappu)
1 and 1/2 tsp split chick pea lentil (chana dhal/ kadalai parappu)
4 tbsp freshly grated coconut (or frozen coconut thawed to room temperature)
3 dry red chillies (or according to taste)
Place rice in a bowl, fill with water swirl with hand and drain the water. Repeat this step a couple of times. Add 2 and 1/4 cup of water and allow the rice to soak for about 30 minutes. Place in pressure cooker/ rice cooker and cook until done. (The proportion of rice to water for brown basmati is usually 1 : 1.5 cups that is for every cup of rice you need 1.5 cups of water, adjust this according to the quantity of rice you are using)
Dry roast all the ingredients mentioned for the powder
separately
until slightly reddish. Cool and grind into a fine powder.
Wash the cilantro thoroughly and puree along with the ginger until smooth adding very little water do not make this puree watery.
Heat oil in a large heavy bottomed pan, add onions to it and saute until onions are cooked and transparent.
Add tomatoes and stir until tomatoes are cooked, soft and mushy. Add bell pepper and grated carrot if using, the pureed cilantro and ginger, salt to taste and simmer for a few minutes until the vegetables are cooked and most of the water from the puree has evaporated. If the vegetables aren't done when the water has evaporated, sprinkle a few drops of water and allow to cook for a few more mins.
Add the powdered masala and mix well.
Add cooked rice and gently mix without breaking the rice. Adjust salt to taste, if required and mix again. Allow to heat through for a couple of mins.
Remove from heat and serve hot with any raita or plain yogurt or any gravy curry of choice.
Notes:
The bell pepper/ green peas/ carrots are completely optional. I just added them for some additional nutrition, you can just as easily make this with just the onions and tomatoes too.

For brown rice, I usually use a proportion of 1 : 1.5 ie for every 1 cup of rice, I use 1.5 cups of water. For white basmati in the pressure cooker I usually use 1.25 cups of water for every 1 cup of rice.

If you are using white rice for this dish, allow the rice to cool a bit before adding to the recipe, white rice breaks more easily. Brown rice seems to hold its shape so much better :)