Snacks play a starring role in my day's menu. I would happily skip lunch if I was offered snacks instead. Items like bakshanam*, vadai* or samosa* immediately come to mind. Not that I ever do that, mind you, because my conscience would not let me get away with that. Knowing my weakness for snacks I take care that I never keep the items mentioned above at home and stock my pantry with healthy alternatives like dry fruits and nuts.
Having said that, there are only so many dry fruits you can snack on, before it starts to become a little boring. So when I came across this recipe on Divya's site I thought it was an interesting and intriguing idea. I have now made these energy bites many many times and have changed some of the proportions along the way and have enjoyed it quite a lot each time. This energy bite is mildly sweet and with a combination of oats and nuts, is packed with nutrients, fiber and protein. This also makes a great snack when on the go, especially on long drives or even on the drive back from work :-)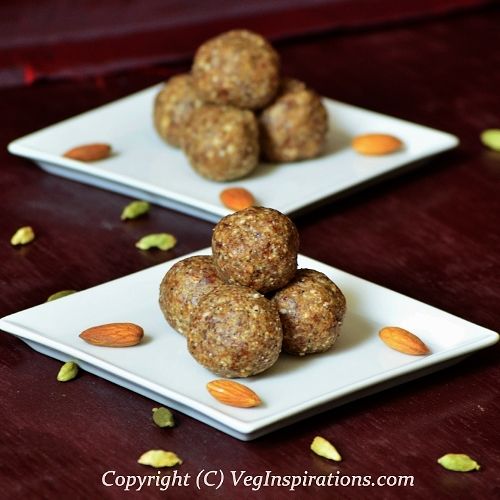 Ingredients and Method to make the energy bites
1 1/2 cups of one minute oats ( I used Quaker)
1 1/2 cups of mixed nuts ( I used a combination of raw unsalted peanuts, almonds and cashewnuts) (any combination of nuts works here, I have used almonds (badam), peanuts (mungphali) , walnuts (akhrot), cashew nuts (kaju) to name a few over time in making these)
1/2 tsp cardamom seed powder (elaichi)
1 tsp clarified butter (ghee/nei) (optional for additional flavor) (leave out for a vegan version)
Dry roast the one minute oats till it turns into a creamier color ( about a minute or two) and keep aside.
Dry roast the mixed nuts either separately or together and keep aside.
In a food processor or blender grind the oats to a fine powder and keep aside.
Similarly grind the nuts to a fine powder and keep aside.
A food processor is my preferred gadget to make this because it really simplifies the process. If using a food processor, place the dates and raisins and process until the dates are much smaller and seem a little mushed up.
Add the oat flour and nut powder to this along with cardamom seed powder and process until all the ingredients come together.
It looks a little like thick and sticky breadcrumbs.
You know it is done when you place a little of this mixture on your palm and make a fist, the mixture should bind and hold together.
If using clarified butter/ ghee add at this point and give it another turn.
Roll into little balls and store in an air tight container.
If using a blender then the best way to proceed is to powder each of dry ingredients separately and add to a large bowl.
Lastly grind the raisins+dates and add the crushed/ground dates to the rest and knead with your hand until the mixture starts to come together.
You can use a combination of any type of nuts, I used these since they are my favorite ones.
You can change the proportion of oats and nuts slightly but the dates and raisins are essential because they impart sweetness and also provide binding to these bites so reducing or skipping one or both can impact the final product.
The cardamom imparts wonderful flavor to these bites so I would not recommend skipping it.
* Bakshanam are deep fried snacks from Southern India, Vadai is a snack made from deep fried ground lentils and samosa's are spiced potatoes rolled in dough and what else....deep fried of course:-)