Are you one of those people that avoid coconut and all coconut related products like the plague, believing it to be the ultimate source of saturated fat and a great diet buster. If yes, then you may find some of the facts in this post both surprising and interesting.......... Growing up, all and any information that got passed on about coconuts seemed to be about its saturated fat and how bad it is for the health and especially for heart health. So coconut oil that once featured regularly as a cooking aid disappeared from our homes at least with respect to cooking and was replaced by refined oil. But for the last year and more I have been reading about a lot of research on the subject of coconuts and coconut oil and it seems to me that this much maligned food from the past is getting touted as an amazing health food with a whole array of health benefits. A lot of research on coconut and coconut oil says it helps in a whole host of health issues from losing weight , to maintaining healthy functioning of thyroid and enzyme systems, to improving digestion and immune system to preventing gall bladder diseases and dissolving kidney stones. Coconut oil is even said to help in controlling blood sugar and in effective utilization of blood glucose thereby preventing and treating diabetes.
After reading about the health benefits of coconut oil and coconuts from multiple sources, I decided to cautiously re introduce it back in my kitchen but in moderation. I feel in moderation and in small quantities it cannot do much harm. If you want to learn more about the health benefits of coconut and coconut oil check out
this link
. I find it amazing that there has been such a reversal on the opinion of coconuts and coconut oil,what do you think, feel free to share your thoughts on this topic
The re introduction of coconut and coconut related products in my kitchen means that one of my childhood favorites has made a reappearance in my kitchen. Spiced coconut powder or Thengai podi as it is known in Tamil ( a language spoken in southern India ) is simple to make and delicious. Literally thengai means coconut and podi means powder but this simple term does not do justice either to the versatility of the powder or to its multi layered taste. Traditionally this powder is served as an accompaniment with plain yogurt rice but this powder can be used in myriad ways and its usage is by no means restricted to south Indian cuisine. This powder works wonderfully in spicing up yogurt to make an instant dip, or in wraps and sandwiches or to spice up or flavor any bland food.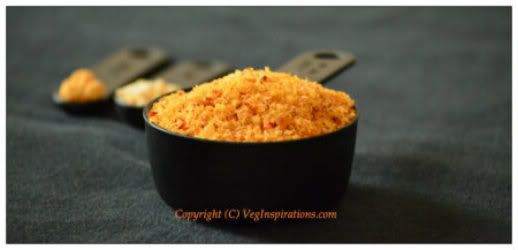 Click here for a printable view of this recipe
Ingredients and Method to make the Spiced coconut powder (Thengai Podi)
3/4 cup grated coconut (either fresh or frozen) I used frozen thawed to room temperature
3 tbsp split yellow chick pea (chana dhal)
3 tbsp split black gram lentil (udad dhal)
2 little pieces of tamarind
1/2 tspn mustard seeds
4 whole dry red chillies salt according to taste ( I used approximately 1 tsp for this quantity)
drop of coconut oil ( optional)
Place a heavy
bottomed pan on medium heat. Add a drop of coconut oil (if using) and roast the coconut scrapings on low to medium heat until the coconut turns reddish in color.
Remove from heat and keep aside. In the same pan roast the split yellow chick pea until it turns reddish in color. Remove from heat and keep aside.
Do the same process for the split black gram lentil and keep aside. In the same pan heat the mustard seeds and the tamarind together for a few minutes until the tamarind starts to change color. Remove from heat and keep aside.
Dry roast the red chillies until it starts to turn color too and keep aside.
The copyright of this content belongs to Veginspirations.com
In a small spice grinder or in your regular blender/ mixer powder the lentils , mustard seeds, tamarind and red chillies coarsely.
Add the coconut to it and powder further until the mixture resembles bread crumbs.
Do not over powder this as the powder needs to have a little texture to it. Add salt to this mixture and give it another little turn in the spice grinder.
Remove, cool thoroughly and store in an air tight container.This has a shelf life of about 10 to 12 days any longer and the coconut could get rancid. If you want to store longer you could probably refrigerate it, I normally do not have to worry about this part since it gets consumed pretty quickly at my place :-)