Isn't it amazing how so many of our childhood memories are tied to food? I commonly see this occurrence, when a family gathers together and start reminiscing about the past, inevitably the conversation seems to stray into food territory and some times the conversation becomes about which foods were served when we were younger and how it was served. One such food that brings back memories of my school days is this patal bhaji, a curry made with cauliflower with a combination of other vegetables.
Usually I have noticed that each home has their own version of preparing particular kind of curries. Surprisingly this is one of the rare curries where I find that both my mother and my mother in laws version of this curry is similar with very slight variations.I remember when my mother used to make this when I was younger, she usually made it to go with phulkas ( a type of Indian bread) and I would be inordinately happy to see this on my plate. I used to play this silly game when I bit into each cauliflower floret, I used to imagine the cauliflower floret to be a tree and say things like " I am biting the tree trunk or biting the tree top" depending on which part of the floret I was biting into...... ah the silly and fun times we had when we were children, can any other phase compare with those carefree days?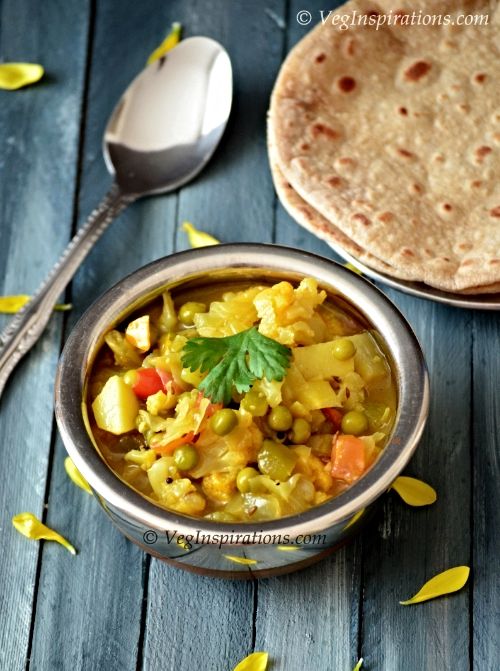 Ingredients and Method to make Cauliflower Medley Gravy Curry
1 large onion (cut fine) (pyaaz/ vengayam)
3 small tomatoes (cut fine)
1 large green bell pepper de seeded and cut into 1/2 inch pieces (capsicum/ simla mirch)
1/2 head of cauliflower (broken into florets)
1 cup green peas (fresh or frozen) If using fresh see notes.
2 medium potatoes peeled and cut into 1/2 inch pieces
1/4 tsp turmeric powder (haldi/ manjal podi)
salt to taste (namak/ Uppu)
1 tsp red chilli powder (or according to taste) (lal mirch)
1/2 tsp sugar (shakkar)
1/4 tsp cumin powder (jeera powder) (optional)
1/4 tsp Coriander powder (dhania powder) (optional)
2 heaped tsp chick pea flour (besan/ kadalai maavu) mixed with 2-3 tsp of water (see notes)
1 tsp mustard seeds (rai/ kadagu)
1 tsp cumin seeds (jeera/ jeeragam)
handful cilantro/ coriander leaves/ hara dhania/ kothamalli (cut fine)
Heat oil in a large heavy bottomed pan, add mustard seeds to it, when mustard seeds start to splutter add cumin seeds to it.
When cumin seeds sizzle add cut onions and stir them until the onions turn transparent.
Add tomatoes and saute until the tomatoes turn mushy and soft. Add turmeric powder, stir a couple of times.
Add all the vegetables, salt, chili powder, cumin and coriander if using and about 2 cups of water and let the vegetables cook until soft but not mushy.
Finally add the chick pea flour + water, add more water if required to achieve desired consistency and let the mixture simmer for a few minutes. Adjust salt and spices if required at this point.
Garnish with cilantro and serve hot with phulkas or plain steamed rice or any other type of roti (Indian flat bread)
The gravy for this curry is not meant to be very thick and creamy, so only 2 tsp of chick pea flour (besan) has been used for this quantity of curry, if you want yours thicker or creamier you could double the quantity of chick pea flour (or use your judgement) to get a thicker consistency.
If you are using fresh green peas, boil in a separate pan until soft then add to the curry.
You can also add in 1/4 head of cabbage cut into small pieces and/ or 2 carrots cut into 1/2 inch pieces in addition to or in place of potatoes
If you are looking for cauliflower recipes, here are a few more