I tweaked the recipe quite a bit and loved the simplicity and taste of the soup. I have never used peanut butter in a soup before so I was not very sure how that would work, but my fears turned out to be groundless. The peanut butter added an interesting taste and imparted a nice creaminess to the soup. I thought a little pearl barley would have been a great addition to this soup, but I did not add it this time, I will be sure to add it the next time I make this....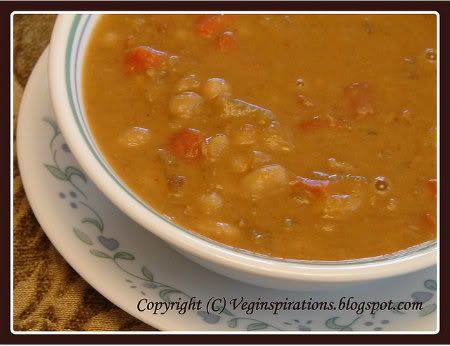 Click here for a printable view of this recipe

Ingredients and Method to make peanut butter soup with northern beans

3/4 cup dried northern white beans soaked in sufficient water with a pinch of soda for about 8 hours or overnight (the soda is optional)

2 medium onions cut fine

2 large carrots cut into small pieces

3 stalks celery cut into small pieces

1 inch ginger minced

1/2 tbsp minced garlic

3 cups vegetarian vegetable stock or water ( I used stock)

2 tbsp extra virgin olive oil (or any other oil)

salt according to taste

1 1/2 tsp chilli powder ( or according to taste)

1/2 tsp paprika (optional)

1/2 cup creamy peanut butter

2 tsp lemon juice

Soak the white beans in sufficient water with a pinch of soda (soda is optional) for at least 8 hours or overnight.

Drain the beans and fill with fresh water and either pressure cook the beans or cook on stove top in a large heavy bottomed pan until the beans are soft but not mushy.

Heat oil in a large heavy bottomed pan, add onions to it and saute until the onions are transparent.

Add minced ginger and minced garlic and stir for a few seconds.

The copyright of this content belongs to Veginspirations.com

Add celery, carrots, spices, salt and vegetable stock or water and let it simmer until vegetables are cooked.

When the vegetables are cooked, add cooked beans, salt if required and water to achieve required consistency and simmer for the flavors to blend together

Mix peanut butter with half a cup of water and whisk together, pour this diluted peanut butter into the soup.

Let the soup simmer for a few more minutes.

Finally add lemon juice to the soup and serve hot with bread of choice.

Yields approximately 2 to 3 servings.

Suggested Variation

Add 1/4 cup of pearl barley along with the vegetables and allow it to cook with the veggies. Proceed with the rest of the recipe as mentioned above.

This hearty soup is off to the Monthly Mingle event- Soups being hosted by

Sunshinemom

and originally started by

Meeta

With the temperature falling to freeze levels and below each day for the last few days, hearty soups seem so appealing right now that they feature often in my dinner menu. I made this soup inspired by a recipe that I recently saw in a cookbook called 1001 vegetarian recipes that I found in my library.