On the other hand if you are looking for a treat as an occasional indulgence than you have come to the right post :-) These chocolate chip cookies were just that for me too, a rare indulgence that I gave into, in lieu of the festival season. Of course knowing I would be sharing these cookies with others provided me with some comfort that we alone would not be indulging in so many cookies.
Surprisingly I found the recipe for this cookie on the back of Nestle's milk chocolate morsel packet that I bought to make these cookies. I never before looked at the back of packets to see if they printed recipes, luckily this time I noticed it and it saved me the time to search for a recipe. I made a few changes to the original recipe. I used flax seed as a substitute for eggs, used regular sugar + molasses in place of the brown sugar required in the original recipe and reduced the quantity of chocolate morsels just a tad bit. The verdict.....these cookies are among the best that I have ever tasted, they were crunchy , delicious and hard to resist. If your sweet tooth has been ignored for a while try these and indulge a little.....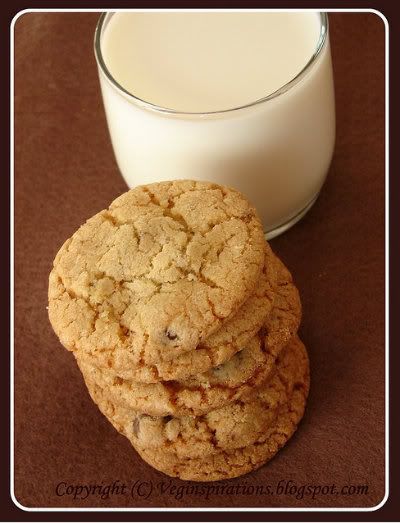 Here is another view of these cookies....
Click here for a printable view of this recipe

Ingredients and Method to make Eggless Chocolate Chip Cookies

2 1/4 cup all purpose flour (Maida)

1 cup unsalted butter (2 sticks) (softened to room temperature)

1 1/2 cups white sugar

2 tbsp molasses (optional)

1 tsp vanilla extract

1/2 tsp salt

1 tsp baking soda

3 tbsp flax seed meal (powdered flax seeds/ alsi) + 6 tbsp water

1 1/4 cup milk chocolate morsels

Preheat oven to 375 deg F

Line a cookie sheet or tray with parchment paper and keep aside

In a bowl mix together all purpose flour, salt, baking soda and keep aside.

In another bowl cream together sugar, molasses (if you are using it) and butter until creamy and airy. ( I used my electric hand mixer for this and it took me just few minutes to get the right texture )

Whisk together water and flax seed meal until it becomes gelatinous. Pour this mixture along with vanilla into the creamed butter and sugar and mix well (or use the electric mixer to mix it in)

Add all purpose flour that has been kept aside to the creamed butter + sugar mixture in small increments and it in before adding some more.

Finally add the chocolate chip morsels and mix it in too.

Using a small tbsp sized round scoop place cookie dough an inch apart on the tray. Place the tray in the oven and bake between 9 to 11 minutes or until the cookies are beginning to brown on the sides and the bottom.

Remove and let cool on the tray for 2 minutes and then place on wire rack to cool completely.

Store in air tight container after thoroughly cool.

Yielded 72 cookies

Notes

The yield and baking times of the cookies will depend on the size of the cookies.

The original recipe called for some white sugar and some dark brown sugar, I replaced the quantity of brown sugar with white sugar and added a little molasses instead for some color and flavor. If you want you can use half white and half brown sugar instead or all white too.

The original recipe called for two eggs which I replaced with the above mentioned flax+water

Does the thought of home baked chocolate chip cookies send you into extreme longing to taste and keep tasting those cookies ? Do you feel that just the sight of cookies can threaten your resolve to stay on your diet and make you binge on some sweets? If yes, then quickly look away and scroll to the lower part of the page where you feel find many healthy dishes that will not threaten your resolve to stay on your diet. I know how hard it is to stay on a diet so I did not want to provide my readers who are working hard to stay on a diet, reason to stray from that diet :-)