Yes this is Veg Inspirations, you have not come to the wrong place. It just looks a lot different since your last visit. The reason for that? I have been wanting a new look for this site for a while now and the combination of the New year and a new domain motivated me to work on the site layout and bring out a new look for the site too :-) I would love to hear your opinions on this new look, so do let me know what you think....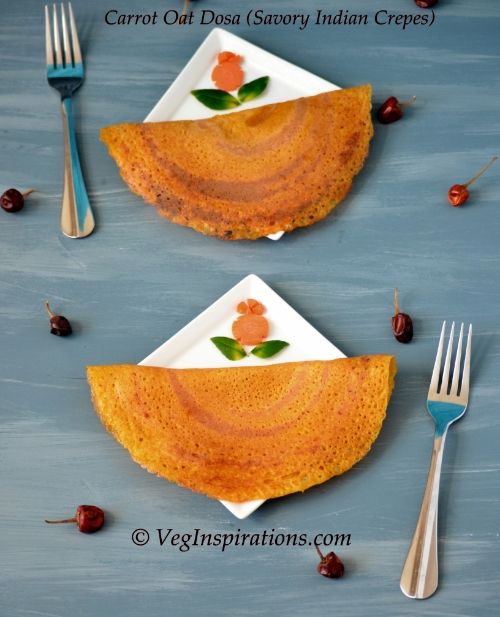 Moving on to the recipe of oat carrot crepe/ dosai. Almost all the time these days I make instant dosai's instead of the ones that require grinding in the interest to complete my work more quickly. But the last time I made dosai I actually had a little more time and I decided since it has been a long time since I made dosai that required soaking and grinding, this might be a good time for it. I did not ferment the batter so this is still much quicker than the traditional type of rice and lentil dosai. These dosai's turned out to be ultra soft and tender thanks to the rolled oats and both the carrots and red chillies provided a nice flavor and color to this dosai. Try this if you want a fairly quick and healthy dosai one of these days, it does not take very long and it tastes fantastic :-)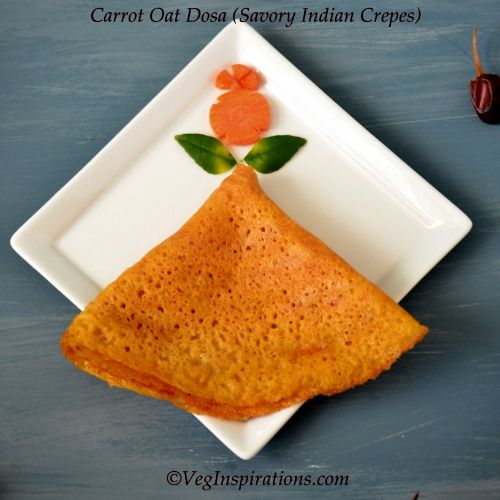 Click here for a printable view of this recipe
Ingredients and Method to make Carrot Oat Dosai
3/4 cup raw rice (chawal/ pachai arisi)
3/4 cup rolled oats
1/4 cup split black gram lentil (udad dhal/ ulatham parappu)
2 carrots cut into little pieces
2 dry red chilies (or to taste)
salt to taste
sesame oil (or any other oil) few drops to shallow fry the dosai (crepes)
Soak raw rice, rolled oats and split black gram lentil together in sufficient water for at least 2 hours.
Grind this in batches along with red chillies and carrots.
Add salt to taste and adjust water as required to achieve pouring consistency for the batter.It should not be too thin, should be slightly thicker than buttermilk consistency. This batter does not need fermentation, so you can make dosa with it immediately.
Heat a griddle/ tawa/ flat pan, smear a couple of drops of sesame oil on this pan and spread it.
Pour a ladleful of this batter in the center of the pan and spread quickly into a circle making it as thin or thick as you prefer.
Add a few drops of sesame oil around the crepe/ dosai or on top of it and let it cook until the lower side starts to brown. Remove with a spatula and flip over.
Let the other side cook until a few brown spots appear on it and then remove from heat and serve with
chutney
,
sambar
or
spice powder
.
Tastes best hot.
Yield depends on quantity of batter used per each crepe/ dosai.