If cereal is your standard breakfast each morning then you already probably know that buying cereal is not as simple as it seems. There are a variety of cereals available and some of them provide a good balance of daily fiber and low sugar whereas some of them can be very sugary and contain absolutely no fiber.
Reading labels can be a boring and time consuming activity when you are short of time but sometimes that seems to be the only way for us to be able to decide which products are good and which are not.... Of course articles such as
this one
are also useful in breaking down some of the facts so that we know which products to avoid. I was quite surprised to see granola on
this list
and finding out that granola can contain up to 9g of sugar. I don't think
this
is the kind of sweet start I would want for the day :-) Read
this list
, if you want to see if your cereal/ granola made the list, and to see how much sugar/ fiber it contains.
Moving on to the post, Makhanwala usually refers to a creamy gravy curry from North Indian cuisine. I made this curry inspired by a recipe I found in Tarla Dalal's Microwave recipes book. I modified the original recipe quite a bit. I used a combination of mushrooms and bell peppers, added ginger and garlic and enhanced flavor with kasuri methi. This curry was a big success in our home and it also has the honor of being one of the rare curries I have made entirely in the microwave :-)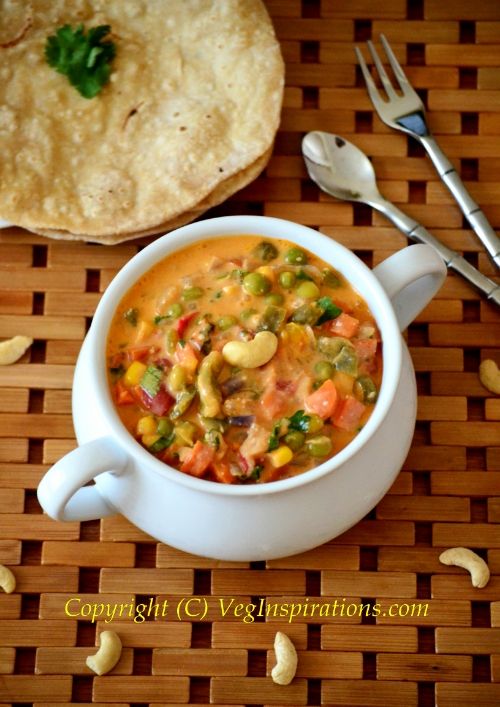 Click here for a printable view of this recipe
Ingredients and Method to make Microwave Veg Makhanwala
1 1/2 cups sliced mushrooms (optional, can be substituted with equal quantity cauliflower florets)
1 cup green peas ( fresh or frozen, I used frozen)
2 large carrots cut into little pieces (yielded about 1 cup cut carrots)
1 1/2 cups mixed colors sliced and deseeded bell peppers ( I used frozen)
(Or 6 cups of vegetables of choice like cauliflower, carrots, green beans, green peas, bell peppers/capsicum)
1/2 tsp minced ginger
1/2 tsp minced garlic
1 medium onion cut fine
1 tbsp butter/ oil / clarified butter (ghee/nei) (for a vegan version use oil)
1 tbsp all purpose flour (maida)
5 tbsp ketchup
3 generous pinches kasuri methi (dried fenugreek leaves)
3/4 tsp chilli powder
salt to taste
3 tbsp raw cashew nuts soaked in water for 30 mins (see notes)
1/2 cup milk (see notes for vegan substitutions)
handful cilantro (coriander leaves) cut fine for garnish
Puree
the soaked and drained cashew nuts with a little bit of milk (see notes)
Assemble items 1 to 4 in a shallow glass dish or any other microwave safe dish. Sprinkle about 5 to 6 tbsp water on it and cook on high heat in 3 minute increments, stirring every 3 minutes ( it took me 12 minutes)
Keep the cooked vegetables aside.
Heat butter/ clarified butter in a shallow dish in the microwave (about 45 seconds) or heat oil for about 30 seconds if using oil.
The copyright of this content belongs to
Veginspirations.com
Add cut onion to the oil/ butter and cook on high heat for 2 minutes or until it turns pinkish.
Add all purpose flour, ketchup, kasuri methi, salt and chili powder and mix well. Add cooked vegetables and mix again.
Add pureed cashews + balance of milk and cook on high for about 5 minutes so that the flavors blend together.
Garnish with cilantro and serve hot on a bed of plain rice, or with pulao or with rotis.
Serves approximately 2 to 3
Notes
If you want to make a vegan version of this curry and want to avoid milk, you can increase the cashew nuts to 5 tbsp and puree it with just water. Add to the curry as suggested above, add water to achieve required consistency and continue with the recipe.
Since the strength of each microwave varies, cooking times can vary too, so check often to see if done.