There are some days when I plan out the menu for dinner, for each evening, at least 3 days in advance. Then there are those days when I literally enter the kitchen with some vague ideas in my mind as to what's for dinner and then just kind of improvise from there.
On one such evening recently when I planned to make sandwiches along with soup for dinner, I found that my stock of cilantro (coriander leaves) was abysmally low. Since that ruled out
this chutney
, I took stock of the rest of the ingredients and decided to come up with a mixed vegetable chutney.
Sure enough that is just what I did, I made a chutney using onions, carrots, tomatoes and celery. I did not use very strong seasoning or flavorings as I wanted the natural tastes of the vegetables to shine through. Between the sweetness from the onions and carrots, slight tartness from tomatoes, earthy taste of celery and heat from chillies, this chutney had it all and turned out to have a perfect balance of flavors. It tasted wonderful with some home baked whole wheat bread (will be posting that soon) and also in
this sandwich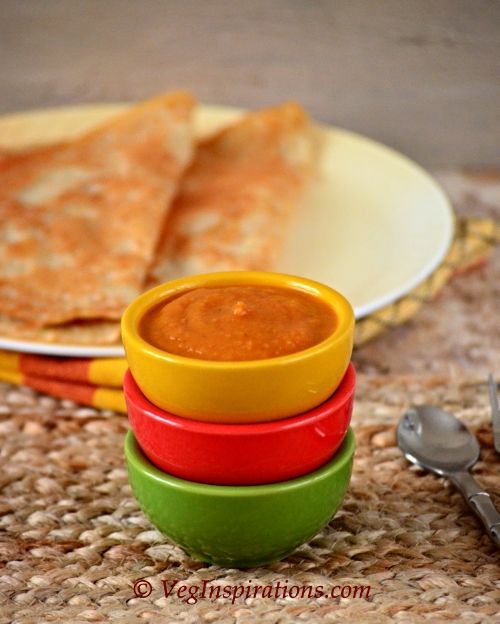 Click here for a printable view of this recipe
Ingredients and Method to make Mixed Vegetable Chutney
1 medium onion cut fine (pyaaz/ vengayam)
1 large carrot cut fine (gajar)
1/2 cup diced tomatoes (tamatar/thakkali)
2 stalks celery ends removed cut fine (can be substituted with one additional large carrot, see notes)
1 Tbsp oil
1 thin sliver ginger cut fine (adrak/inji)
3/4 tsp cumin seeds (jeera/jeeragam)
3 Thai or Indian variety green chillies (or to taste) (hara mirch/ pachai molagai)
1 dry red chili (or to taste) ( optional)
salt to taste
approximately 1/2 cup water
Heat oil in a medium sized heavy bottom pan. Add cumin seeds to it, when cumin seeds begin to splutter, add green chillies and dry red chili (if using).
Then add onions and saute until onions become transparent.
Then add ginger, stir a couple of times and add tomatoes and saute until tomatoes turn soft and mushy.
Now add carrots and celery, salt to taste and water and keep the pan covered, stir occasionally until the vegetables become soft and cook.
Remove from heat and keep aside until the vegetables cool down to room temperature
Using a blender/ mixer grind this mixture until it forms a smooth paste.
The copyright of this content belongs to Veginspirations.com
Serve along with
dosai
/
idli
or use as a spread in a
sandwich
or as a dip for vegetables or chips
Serves approximately 2 to 3
Refrigerate the balance in an air tight container and use within a couple of days.
Notes :
If you cannot find or do not have celery you can use an additional large carrot in place of celery and proceed with the rest of the recipe in the same manner.