Just as I got the vegetables ready, it struck me that if R does not like the sweetish taste of the pineapple dressing I will be left with a whole lot of salad to consume by myself. My resolution to eat salads definitely did not extend to eating so much salad all by myself :-) I decided to make an Indianized version with half the vegetables so that R who likes spice more than sweet would be happy too. I quickly gave half the salad an Indian twist, tasted it and loved how it tasted. So the rest of the vegetables soon got converted to the Indian style salad as well and now this variation of salad appears frequently on my table.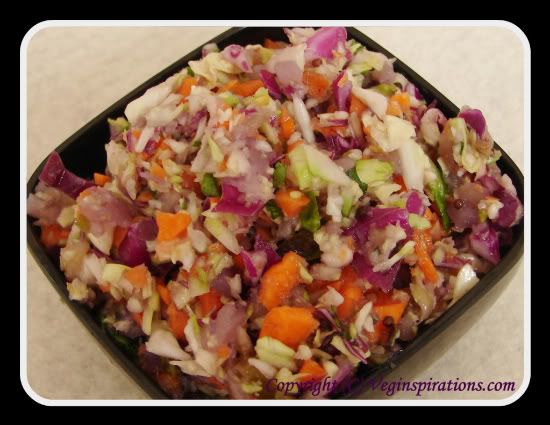 Click here for a printable view of this recipe
Ingredients and method to make Indianized coleslaw
1/2 head of cabbage shredded fine
1/8 head of red/ purple cabbage shredded fine
2 large carrots shredded fine
1 cup pineapple pieces crushed slightly
handful cilantro (coriander leaves) cut very fine
Salt to taste approximately 3/4 tsp
2 tsp lemon juice
2 tsp lime juice
Seasoning
3 tsp oil
1 tsp mustard seeds
2 Thai or Indian variety green chilies (or to taste) slit lengthwise and cut fine
2 pinches of asafoetida (hing/ perungayam)
2 pinches of fenugreek powder (optional) (see notes)
In a large serving bowl, add the first four ingredients and mix well.
Add salt to taste, lemon juice, lime juice and cilantro and mix well.
Heat oil in a small pan, add mustard seeds to it, when the seeds begin to splutter add green chilies to it.
The copyright of this content belongs to Veginspirations.com
When green chilies begin to turn color, quickly add asafoetida and fenugreek powder (if using) and give it a quick stir and pour this entire mixture on top of the veggies.
Mix everything well and serve cold or at room temperature.
Serves approximately 3 to 4
Notes
I always keep some fenugreek powder at home, so I used it in this recipe for a little more flavor. It is completely optional and you can just as easily skip that ingredient.
How I make fenugreek seed powder is I spread fenugreek seeds on a microwave safe plate and microwave on high for 1 minute or until fenugreek seeds start to exude an aroma and turn a little browner. Then I cool to room temperature and grind into a fine powder in my spice grinder and store in an air tight container and use as required.
The pineapple adds a very interesting taste and texture to this recipe, so I recommend not to skip this fruit.
This is my first contribution to the
Healthy Inspirations Event- Salad
being hosted on this site
One of my new year resolutions this year is to eat more salads, I feel salads are a great way to include a variety of vegetables and fruits in one go. So with a view to making more salads, I have been looking for ideas and came across one for a coleslaw with a pineapple dressing. This idea appealed to me and I decided to make that salad for dinner. I started out on the salad, made the dressing and put it in the refrigerator to chill, before I continued on to prep the vegetables.