Here is a little bit of humor that I came across recently that I thought my readers would enjoy....
--------------------------------------------------------------------------------------------------------------
Scared Sleeping
Shakey went to a psychiatrist. "Doc," he said, "I've got trouble. Every time I get into bed, I think there's somebody under it. I get under the bed, I think there's somebody on top of it. Top, under, top, under. "you gotta help me, I'm going crazy!"

"Just put yourself in my hands for two years," said the shrink. "Come to me three times a week, and I'll cure your fears."

"How much do you charge?"

"A hundred dollars per visit."

"I'll sleep on it," said Shakey.

Six months later the doctor met Shakey on the street. "Why didn't you ever

come to see me again?" asked the psychiatrist.

"For a hundred buck's a visit? A bartender cured me for ten dollars."

"Is that so! How?"

"He told me to cut the legs off the bed!"
-------------------------------------------------------------------------------------------------------------
Funny huh ? I sure enjoyed it.....
Moving on, I am sure there are literally hundreds of variation of peas pulao, since each person has their own way of making this dish. This is my take on peas pulao. I used white basmati rice, a rare indulgence for us since I cook with brown basmati all the time. I find my rice cooker inordinately useful when making any type of pulao because it keeps each grain of cooked rice whole and separate and has the additional benefit of being able to keep the pulao hot/ warm until we are ready to have it. The icing on the cake, figuratively speaking, is that it requires very little attention, just mix in the ingredients, press the start button and you are good to go....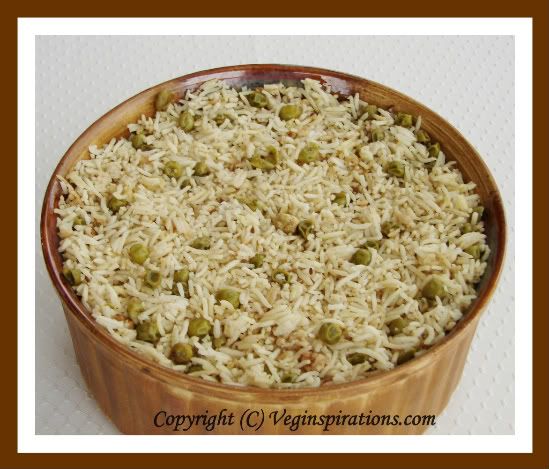 Click here for a printable view of this recipe
Ingredients and method to make peas puloa in the rice cooker
1 medium sized onion cut fine
3 cups basmati white rice
3 1/2 cups water (soak basmati rice in water for 30 minutes prior to proceeding with the recipe)
3 cups green peas fresh or frozen
3 tbsp oil (or more if you like more)
1 tsp cumin seeds (jeera)
3 Thai or Indian green chilies slit lengthwise (or to taste)
4 small bay leaves
2 whole green cardamoms
2 tsp Kitchen king masala (or any other curry powder) (see notes)
salt to taste
Place basmati rice is a bowl, fill with water, swirl with hand a couple of times and then drain water. Add 3 1/2 cups of water and allow basmati rice to soak for about 30 minutes or so
In a small pan, heat oil, add cumin seeds to it, when cumin seeds begin to splutter add green chilies. Stir a couple of times.
Then add onions and saute until onions are transparent. Add green peas and stir a few times
Quickly add whole green cardamoms, kitchen king masala, bay leaves and stir a few times.Remove from heat and keep aside.
In the rice cooker container, add the soaked basmati rice along with the water it was soaked in, then add the onions+ peas+ spices to it and mix well.
Add salt to taste, mix well and then close the container and set the rice cooker to the white rice setting, if you have that or just push the button to start cooking.
The copyright of this content belongs to
Veginspirations.com
When it is ready, mix well and keep warm until ready to be served.
Serve hot with curry of choice or dhal of choice along with some raita and papad/ chips
Serves approximately 6.
Notes
You can use garam masala instead of Kitchen king masala, If you plan to substitute with garam masala use half the quantity of kitchen king masala suggested since garam masala tends to be a bit more spicier.
You can even use curry powder in place of Kitchen king masala if you so choose...
This recipe can be easily halved if you want to make less.