Imagine this, it is a hot and humid day with temperature in the nineties. There is not even a hint of breeze and the only sounds you hear are of some birds chirping at a distance. You are in a park with two hours of time on your hands and not a worry in the world. You are seated in a shady spot, with your favorite book within reach and in your hand you have a delicious mango flavored frozen yogurt that you are slowly savoring, letting it melt on your tongue to enjoy it fully. Ahh bliss isn't it ? Just imagining this scene makes me feel so nice.
Now this is how it actually played out for me, hot and humid day, check, no breeze, check, mango yogurt, check. There was no park, no book and no worry free couple of hours but hey three out of eight is not too bad. Especially if one of those three items is mango yogurt, it definitely compensates for the lack of a book, park and a couple of worry free hours :-)
Mangoes are in season right now and I could not resist making a batch of mango flavored frozen yogurt with them. This way I was also able to give my barely used ice cream maker a workout too. This is the perfect weekend indulgence, try it if you are in the mood for a quick and delicious frozen treat, your taste buds and your family will thank you for it :-)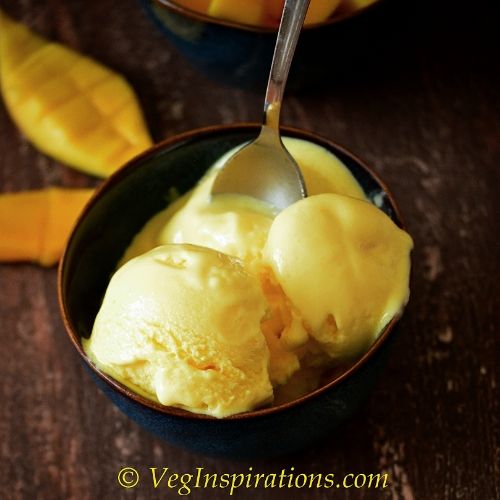 Click here for a printable view of this recipe
Ingredients and Method to make Mango Frozen Yogurt
3 medium mangoes skinned, de seeded and cut into 1 inch pieces (yielded 3 cups of cut pieces)
3/4 cup light cream
2 cup Greek style plain yogurt (if you do not have greek yogurt, then you can make your own, instructions below)
approximately 3/4 cup sugar (adjust according to sweetness of mangoes)
Puree the mango pieces until it is smooth.
Add cream and give it a churn in the blender too.
In a large bowl, mix together the cream+ mango puree, greek style yogurt and sugar.
The copyright of this content belongs to
Veginspirations.com
Chill in the refrigerator for an hour or two. Place in the ice cream maker and churn to make frozen yogurt as per your ice cream makers instructions. I churned in two batches for this quantity and each batch took me twenty to twenty five minutes of churning for it to set.
If you do not have an ice cream maker than place the mixture in the freezer. When it begins to freeze around the edges, remove and stir it vigorously with a whisk or spatula. Return to freezer and continue this process every 30 or so minutes, stirring at least five to six times. Allow it to freeze and serve. If you want more details on this process check out
this post
Serve immediately, freeze the balance and use as required.
Notes
If you do not get greek yogurt in your area, then you can make your own. Greek yogurt is just regular yogurt that has been strained. Line a colander with a muslin cloth, place regular yogurt in it and let it drain.(just as you would for making shrikhand if you have done that in the past) For some more details and pictures check out
this post
This kid friendly yogurt is off to
Kids Delight- Coloring your Kids delight event
being hosted by Srivalli