Among various jam flavors, mixed fruit jam has always been one of my favorites. I remember even in my school days if we ever bought jam from the stores, our default selection always was Kissan (an Indian brand) Mixed fruit jam. We would vary our jam choice very rarely. So it is somewhat of a surprise to me that I have never tried making this jam earlier.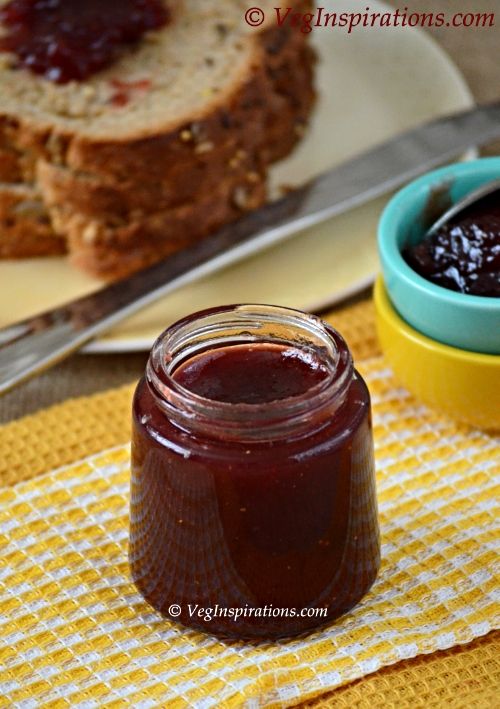 Anyway, now that summer is here, or at least it feels like summer with the weather consistently in the mid nineties, I have been enjoying the wider variety of fruits that have begun showing up in the produce section. But as I sometimes do, especially with fruits, I ended up with a little too much and afraid that the fruits would spoil, I was planning to make a fruit salad with it. In the last minute I changed my mind and decided to make mixed fruit jam with it, and I am so glad I did.... This mixed fruit jam turned out to be just perfect, and tasted fabulous. I loved the flavor from the fruit blend and I think I am never going to be able to go back to store bought mixed fruit jam after this....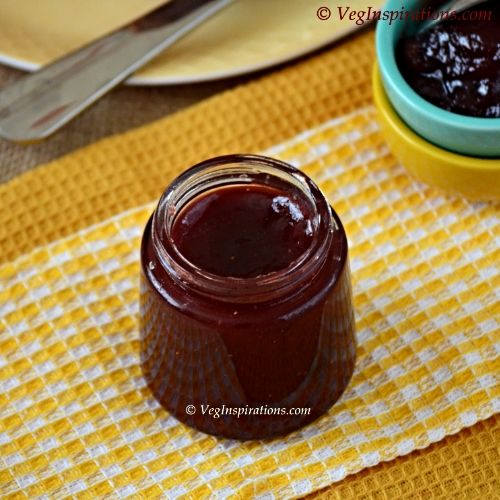 Click here for a printable view of this recipe
Ingredients and Method to make Mixed Fruit Jam
1 large ripe banana
2 1/2 cup red seedless grapes
10 to 12 large strawberries cut into little pieces yielded 1 cup of cut strawberry pieces
1 large apple (peeled , de-seeded and cut pieces) yielded about 1 1/2 cups of cut pieces
3 1/2 cups of sugar
3 tbsp lemon juice
Additional 10 to 12 large strawberries cut into little pieces need not be pureed (optional see below for explanantion)
Puree all the fruits in batches in a blender . I got a total of 4 1/2 cups of puree. I kept some strawberries without pureeing so that I could feel some fruit bits in my jam, if you do not like it that way, then puree all the fruits.
In a large heavy bottomed pan, mix together the fruit puree, sugar and heat on medium heat. Bring to a boil, lower heat to medium low, add lemon juice and keep stirring allowing it to cook until it thickens.
You know when the jam is ready, if you lift the spatula and allow the jam to pour and it flows together and not in little drops
Alternatively, pour a few drops on a plate, if it spreads easily, then the jam is not ready. When you pour a few drops and it stays firm without moving, and has a jam like consistency, the jam is ready.
The copyright of this content belongs to
Veginspirations.com
Remove from heat, cool slightly and pour into glass jars. This quantity yielded me enough jam to fill 2, 16oz jam containers
Refrigerate after it cools to room temperature and use as required
Notes
For this quantity I did not sterilize my bottle, since I was making a very small batch. In case you plan to make lot of jam, then it is suggested to sterilize your glass jar before you fill it with jam, click
here
to know how to sterilize your glass jars
In case you have a minute and are interested in humor, I have posted the latest bit of humor I came across
here
Reader Feedback on this recipe through email/ social media
:
Reshma says " .......... i tried ur
mixed
fruit
jam
recipe, it turned out perfect thanks a lot for the recipe
as this is my first attempt in
jam
making"
Lataji says " ................. The
Mixed
Fruit
jam
beats any branded one hands down:) I have been unable to stop dipping a finger and bringing out some to taste, into the tiny jar that have stored it in."
Thanks so much for the feedback :)