An essential ingredient used in south Indian cuisine is tamarind. The flavor and slight tartness that tamarind imparts is essential to a lot of south Indian dishes.Can you imagine how sambar or rasam would taste without tamarind..................I know there are substitutes like kokum that some people use, but I prefer tamarind for the traditional taste. Even though I use tamarind regularly and always keep some at hand, I have never really had any curiosity about tamarind and its origin.
Recently when I visited a small village/ town in south India I came across lots of interesting trees and plants that I thought my readers might find interesting. One such tree was a tamarind tree or puli maram as it is known in Tamil. I could not resist taking a picture of the tree, unfortunately I only had my mobile phone with me at the time so my picture quality is not awesome. But when you look closely you can see tamarind between the leaves. One interesting fact that I heard about the tamarind tree, was that the leaves have a slight tartness too, I did not taste any leaves though to make sure if that was true :-)
Moving on to the tomato soup, this simple and basic version of tomato soup is something I make when I have a lot of fresh ripe tomatoes and am looking for a simple soup to go with my sandwich. This classic, low fat and quick soup is great for when you are not in the mood for something elaborate, yet are looking for something nutritious. I usually serve it with
this grilled veggie panini
or
this mozarella panini
, but it can be served with any sandwich of choice.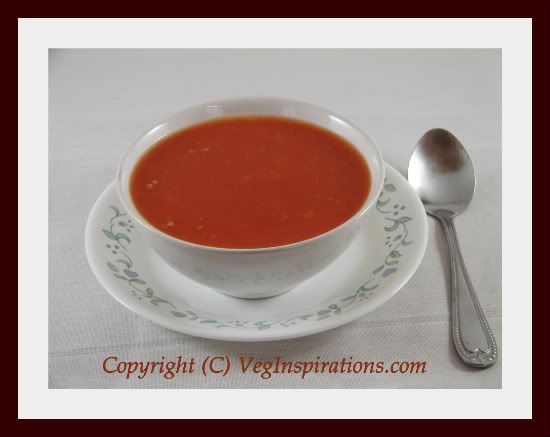 Click here for a printable view of this recipe
Ingredients and Method to make Simple Tomato soup
4 very large tomatoes ( I used hot house tomatoes)
1/2 tsp chopped ginger (optional)
salt to taste (approximately 1 1/2 tsp)
2 to 4 tsp sugar or according to taste (see notes)
1/2 tsp red chili powder (or to taste)
Black pepper powder to taste (optional)
2 tbsp corn starch (known as cornflour in India) mixed in a little water
1 tbsp butter (optional) (or oil for a vegan version)
In a large heavy
pot cook whole tomatoes and ginger if using in sufficient water for a few minutes until the skin on the tomato splits.
Remove from heat, cool slightly and carefully peel the skin. Keep aside to cool further. After it cools, puree tomatoes along with ginger to a smooth texture. If you do not want the seeds of the tomato in your soup then strain the pureed tomatoes to remove the seeds.
In the same pot, heat butter if using, then add tomato puree, salt to taste, sugar (see notes), water as required to achieve required consistency and red chili powder and simmer for a few minutes on low to medium low heat. In the meanwhile mix corn starch in a little water and add to the soup. Allow it to simmer for an additional couple of minutes.
Remove from heat and serve hot, garnished with a little black pepper powder if you want.
The copyright of this content belongs to
Veginspirations.com
For a classic combination serve this soup with a grilled cheese sandwich.
I prefer this soup with either
this mozarella panini
or
this grilled veggie panini.
usually the latter.
Serves approximately 3
Notes
You can completely skip the ginger if you do not like the taste of ginger. If you do not use ginger then you will not need to add much sugar, just a couple of tsp should do. If you do add ginger, then a little more sugar is required to balance out the spicy taste of ginger.