A couple of days ago I came across
an interesting article
about foods that fudge facts. The article described how so many of the daily items we regularly purchase are filled with all kinds of additives and artificial flavors and have very trace amounts of the fruits, nuts or natural ingredients that it claims to have in it.If you want to read the entire article click
here
Of course I have known for a while that a lot of food that we purchase contains artificial flavors and additives. Over time I have become pretty good with reading labels and trying to avoid over processed foods or foods with too many chemicals and artificial ingredients. That said, I was disheartened to find items like ice cream and a well known cereal make it into this list.
Reading such articles makes me want to avoid buying processed foods as far as possible and has me yearning for something simple, wholesome and nutritious. Speaking of wholesome and nutritious, here is a wheat dosai that does complete justice to these words. When I visited India recently, my sister in law Anu made this for breakfast one morning and I loved it. When I asked her for the recipe, I was surprised at how quick and simple it is to make this dosai, making it ideal for a quick breakfast or as an anytime snack or even a light dinner. Thanks Anu for this really neat recipe, it now features frequently in my kitchen :-)
Here is a closer look at the dosai.....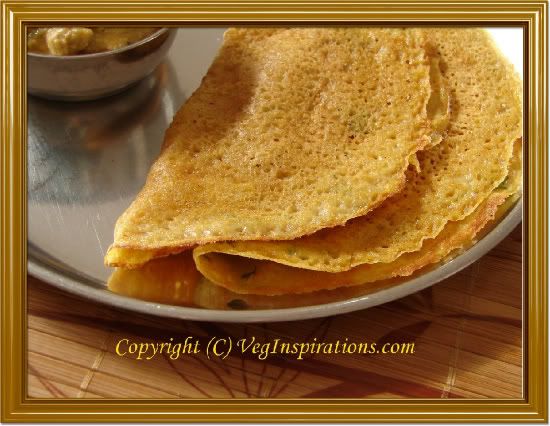 Click here for a printable view of this recipe
Ingredients and Method to make Instant Savory Wheat Dosai
2 cups whole wheat flour (atta/godumai maavu)
salt to taste
1/4 tsp turmeric powder
1/2 tsp red chili powder (or to taste)
2 generous pinches of asafoetida powder (hing/perungayam)
approximately 3 cups of water
handful cilantro (coriander leaves) cut very fine
sesame oil as required to shallow fry the dosais
In a large bowl, add flour, spices, salt to taste and mix well.
Add water slowly half cup at a time and mix into the flour making sure that there are no lumps formed.The batter should be not too thick nor too thin. If in doubt err on the side of a thicker batter, you can always add more water later to get the right consistency.
Add cilantro to the batter and mix well.
Heat a
tawa/flat pan/ griddle on medium heat. When hot, pour a ladle of batter in the center and quickly spread into a thin circle.
Add a few drops of sesame oil around the circumference of the dosai and a couple of drops in the center.
When the lower side is a nice even golden brown, flip over and cook the other side until it gets a few brownish spots on it.
The copyright of this content belongs to
Veginspirations.com
Remove and serve hot with chutney of choice/ molaga podi/ sambar
This quantity yielded approximately 12 to 14 dosais
Suggested variation:
Add a small quantity of finely cut onions to the batter just before making dosai for a slightly different flavor.