Peanuts are one of my favorite items from
the bean family
, especially cooked peanuts, which always taste a little crunchy, a little soft and very, very delicious. The other day when I planned to make spinach curry, somehow the idea of combining it with peanuts got stuck in my head. I googled to see if there were any recipes made with this combination and sure enough I came across
this Maharashtrian curry
that really appealed to me. What I really loved about this curry, other than its typically Maharashtrian style of combining a little sweet, a little spice and a little tart was the combination of chick pea lentil, peanuts and spinach, making this a protein filled and healthy curry.
The original recipe called for goda masala (a type of curry powder) that I completely skipped. The reason for this..........I did not want the flavors of the masala powder to overwhelm the simple flavors from spinach, peanuts and chick pea lentil. I also adapted a few other ingredients from the original recipe to suit our taste and to adjust for availability of ingredients on hand. The result...........was this fabulous curry that I absolutely adored. Perfect for
phulkas
/
rotis
or any other Indian themed meal or can be had just by itself...it was that yum :-)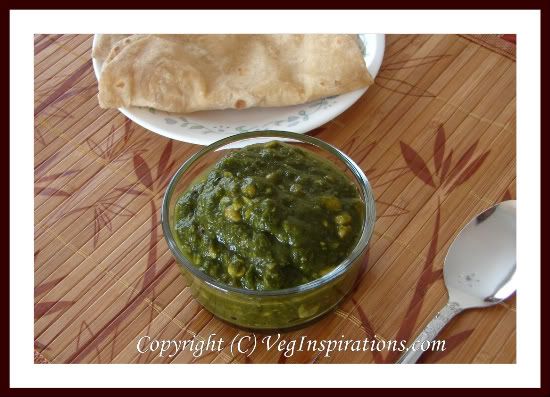 Click here for a printable view of this recipe
Ingredients and Method to make Spinach with Peanut curry
1/2 cup raw peanuts
1/2 cup split chick pea lentil (chana dhal/ kadalai parappu)
2 inch piece of tamarind
12 oz spinach leaves (palak)
2 tbsp grated jaggery (gur/gud/vellam)
salt to taste
1 tbsp chick pea flour (besan/ kadalai maavu)
seasoning
3 Thai or Indian variety green chilies (or to taste)
1 tbsp oil
1 tsp mustard seeds
1/2 tsp fenugreek seeds (methi /mendiyam)
1/8 tsp asafoetida powder (hing/ perungayam)
1/4 tsp turmeric powder
Soak
raw peanuts and chick pea lentil together in sufficient water for an hour.
Soak tamarind in a little water for about 15 to 20 minutes
Pressure cook peanuts + lentil until soft. Peanuts + lentils can also be cooked on the stove top until soft. Keep this aside.
In a small pan, place spinach, tamarind and some water and allow to cook until soft. Remove from heat and keep aside to cool. Puree spinach + tamarind in a blender until smooth and keep aside.
Heat oil on medium heat in a medium to large heavy bottomed pan. Add mustard seeds. When seeds begin to splutter add fenugreek seeds and stir until it begins to brown. Quickly add green chilies. When they begin to sizzle add asafoetida powder and turmeric powder and quickly stir a few times.
The copyright of this content belongs to
Veginspirations.com
Add pureed spinach to the seasoning. Pureed spinach splatters when added to the seasoning so make sure to keep a lid handy to close the pan. Next add cooked peanuts and lentil to it. Add salt to taste and grated jaggery and allow to simmer for a few minutes.
Finally mix chick pea flour in a little water (I used approximately 1/4 cup) and add the mixture to the spinach curry. Allow to simmer for a few more minutes until the curry begins to thicken slightly. Remove from heat and serve hot with phulkas/ rotis. Or serve as a side dish with any Indian themed meal.