This curried mung bean and barley soup was first posted on this site on Thursday, 12th May 2011. Some of you may have noticed that when you tried to click on my post either through your reader or through the email, it displayed a message that the page did not exist. The reason for this was that blogger had some issues since Thursday. I initially noticed that my post kept disappearing and reappearing for the entire day. By Friday, sadly the post had completely disappeared, I kept hoping that it would reappear later during the weekend, but it did not. So I am posting this soup for the second time and keeping my fingers crossed that the issues with blogger have been resolved :-)
Since the first time I tasted barley in a soup at a restaurant, soups have been my favorite way to include barley in our diet. Of course that is not the only way I include barley in our menu, I have played around with using it in foods like this
Oat barley roti (Indian flat bread)
,
this barley cutlet
and
this barley adai (crepe)
and enjoyed it immensely. But the first thought that crosses my mind when I think of using barley is usually some type of soup.
This time I decided to try barley in combination with mung bean in a soup. The result was this hearty, nutritious and very delicious soup that I completely enjoyed. I rarely use bell pepper in soups, but I tried it in this one and was surprised to find that it added a very interesting flavor and dimension to the soup. Since I precooked the beans and barley in the
pressure cooker
I also saved a lot of time and got this soup ready in under thirty minutes. And anytime I can make something quick, healthy and tasty, that is a winner in my book:-)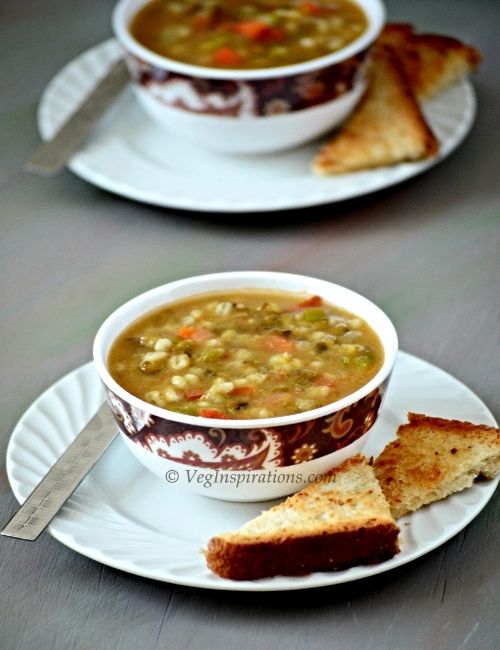 Click here for a printable view of this recipe
Ingredients and Method to make curried mung bean and barley soup
3/4 cup whole green mung bean soaked for 3 to 4 hours (whole moong)
1/2 cup pearl barley (jau)
2 medium size onions cut fine (pyaaz)
3 medium tomatoes cut fine (tamatar)
3 carrots cut into 1/4 inch pieces (gajar)
1 green bell pepper (capsicum/simla mirch/ koda molagai)
2 tbsp oil
1/2 tsp minced garlic (lehsun/poondu)
a thin sliver of ginger minced (adrak/inji)
1/4 tsp turmeric powder (optional) (haldi)
1/2 tsp
red chili powder
(or to taste) (lal mirch)
1 1/2 tsp garam masala (can be substituted with any other
curry powder
)
salt to taste
3 1/2 tsp lemon juice (or to taste)(limbu ka ras)
handful cilantro (coriander leaves/hara dhania) cut fine for garnish
Soak mung beans
in sufficient water for 3 to 4 hours. Just before cooking it, drain the water and add
fresh water
to the soaked
mung beans
. Wash and rinse pearl barley and add to the soaked mung beans and pressure cook the two until soft. Alternatively soaked mung beans + pearl barley can be cooked on the
stove top
together or separately until soft yet not mushy.Keep this aside .
Heat oil in a large heavy bottom pan, add onions to it and saute until transparent. Add ginger and garlic and stir a few times. Add tomatoes and saute until tomatoes get soft and cooked.
The copyright of this content belongs to
Veginspirations.com
Add turmeric powder, garam masala,
chili powder
and stir a couple of times. Add carrots and
bell peppers
, water or stock as required and cook until the vegetables are soft.
Add cooked mung beans + pearl barley, salt to taste, adjust water/ stock if required and allow the soup to simmer for a few minutes while the flavors mingle.
Finally add lemon juice, garnish with cilantro and remove from heat.
Serve hot with some crusty bread, or
pav bread
or any other bread of choice ( I served this soup with some
focaccia bread
) or you can even adjust the consistency a little and serve it like a curry over a bed of plain steamed rice :-)