For a while now I have been experimenting with spelt flour in my bakes and so far I have enjoyed the results of my experiments with spelt flour. What I like most about spelt flour is that unlike wheat flour, spelt does not make muffins/ cakes very dense and chewy, so I find this a more appropriate substitute to apf in quick breads/ muffins and cakes. Spelt is a cereal grain in the wheat family. It has a nutty and slightly sweet flavor similar to whole wheat flour. Spelt is said to have a strong nutritional profile, it has slightly fewer calories than whole wheat flour and a little more protein. Another important thing about spelt flour is that the gluten in this flour is different from wheat flour. In wheat flour the gluten is resilient and needs long kneading time to strengthen it and give breads structure. But the gluten in spelt flour breaks down easily, so it is important not to over mix it, otherwise it causes a crumbly texture.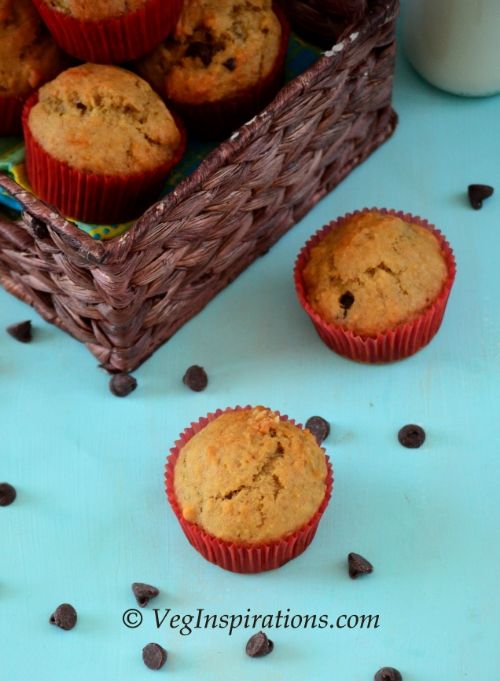 The first time I tried these muffins, the combination of banana and apples happened mainly because these were the fruits in my fruit basket that needed to be used up :) I added the chocolate chips on a whim and loved the combination of flavors in my muffin. Since then I have made this muffins quite a few times and have found that this is a very forgiving recipe and yields consistent results. Don't have spelt flour, no problem works just as well with all purpose flour or a combination of all purpose flour and whole wheat flour. Don't have yogurt, not a problem it works just as well with banana as a substitute :) This has become my go to recipe for when I want quick and easy muffin these days. Give it a try and tell me what you think of it :)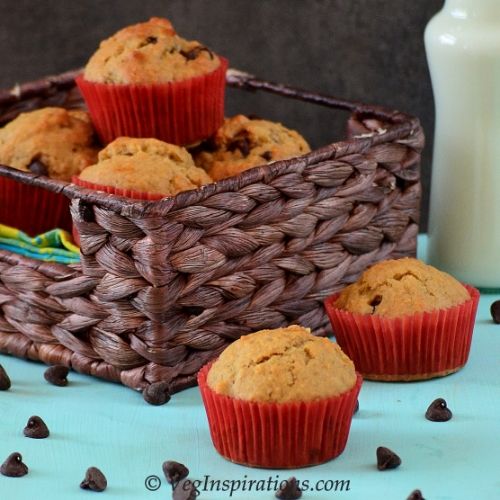 Click here for a printable view of this recipe
Ingredients and Method to make Apple banana choco chip muffins
Wet Ingredients
1 apple peeled, deseeded and cut into small pieces
1 ripe banana peeled and cut into small pieces
1/4 cup oil
1/2 cup plain yogurt (can be substituted for 1/2 cup mashed banana, see notes)
1 tsp vanilla extract
Dry Ingredients
1 cup all purpose flour (maida) (or spelt flour, see notes)
1 cup whole wheat flour (atta/ godumai maavu) (or spelt flour, see notes)
1/2 tsp salt
1 tbsp baking powder
1/2 tsp baking soda
1/2 cup sugar
1/4 cup semi sweet chocolate chip (use vegan chocolate chips for a vegan version)
Pre heat oven to 350 deg F. Line muffin tray with muffin liners and keep aside
In a
large bowl
mix together all the dry ingredients except chocolate chips and keep aside.
Puree the apple pieces and banana pieces
without adding any water
until smooth. Yielded 1 slightly heaped cup of pureed fruit, keep this aside. Whisk yogurt until smooth and keep aside. Add pureed banana+ apple, yogurt to the dry ingredients and mix gently.
The copyright of this content belongs to
Veginspirations.com
Add oil, vanilla extract and mix gently. Finally add chocolate chips, mix again and spoon into prepared muffin cups and bake in the oven for 20 to 25 minutes or until a toothpick inserted in the center comes out clean.
Cool slightly, peel the liner and enjoy.
Store any leftover muffins in an airtight container and use within a day or two for best taste.
Yielded 12 regular sized muffins.
Notes:
For a vegan version, or if you do not have yogurt on hand you can substitute it with half a cup of mashed ripe banana (approx 1 large banana)
The entire quantity of flour in this recipe can be substituted for 2 cups of spelt flour. It works well with spelt flour too. If you use spelt flour just make sure not to overmix the ingredients and just as soon as the ingredients are mixed spoon them into the pre lined muffin cups.