If I was ever given a choice of selecting a particular kind of food that I could easily have for days, sandwiches and wraps would win hands down. That is because it is so easy to vary flavors and tastes with both sandwiches and wraps. Change the chutney, use different vegetables or patties as filling and voila you have something completely different............easy way to get some variety. Of course this does not mean that I am having wraps and sandwiches for lunch and dinner each and every day , but I think I could ..... :-)
Surprisingly the idea for this wrap came to me when R was describing a Mexican wrap that he had had earlier that day. I have no idea why his description of a Mexican wrap led me to think of an Indian style wrap, only glad that it did :-) Between roasting the vegetables and adding spices to them, the vegetables are very very flavorful and I have to admit I enjoyed quite a few pieces just like that :-) The cilantro mint chutney adds more flavor and some heat to the wrap. We liked it so much that I have already made it a few more times since the first time and have enjoyed it thoroughly each time. If you are looking for a quick, simple and flavorful wrap, this could be the one you are looking for..... :-)
Here is a closer look at the wrap........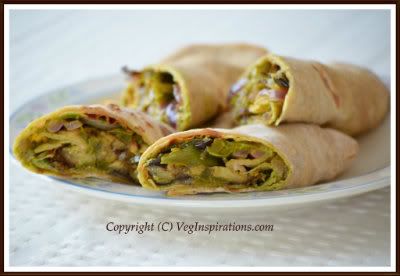 Click here for a printable view of this recipe
Ingredients
and Method to make Roasted Veggie Wrap
This cilantro mint chutney
as required
Whole wheat flat bread as required (recipe follows) (see notes)
Roasted vegetables as required (recipe follows)
a few toothpicks (optional) (to hold the wrap together)
For the roasted vegetables
2 large green bell peppers deseeded and cut into long 1/4 inch sticks
1 large eggplant cut into half then cut into 1/4 inch long sticks
2 red onions cut lengthwise
6 mushrooms cut into thin slices (optional)
1/4 cup olive oil
1/2 tsp salt
1/4 tsp turmeric powder
1/2 tsp red chili powder (or cayenne) (or to taste)
1 tsp garam masala ( or any other curry powder ) (or to taste)
1/4 tsp dried fenugreek leaves (kasuri methi) (optional)
Pre heat oven to 425 deg F. Prepare a couple of flat baking trays by lining them with aluminum foil.
Wash and dry all the veggies except onions. Peel onions and cut all the vegetables to desired lengths.
Add all the spices to oil and mix well. Take a large bowl and add one type of vegetable. Sprinkle with a 1/4th of the oil and toss well until all the pieces are evenly coated. Spread the vegetable on the prepared tray.
The copyright of this content belongs to
Veginspirations.com
Proceed with the rest of the rest of the vegetables in the same manner and spread on the prepared trays. Place the trays in the oven and bake for 15 to 20 minutes or until the veggies begin to get light brownish spots.
Remove
and keep the vegetables aside.
For the Flatbread
1 and 3/4 cup whole wheat flour
salt to taste
approx 3/4 cup water (or as needed)
a little extra flour for dusting.
In a large mixing bowl, add whole wheat flour and salt to taste and mix well. Add water slowly and knead to make a soft and non sticky dough. Keep the dough covered for about 30 minutes or so.
Pinch out a lemon sized piece of dough, roll it into a smooth ball. With the help of a little flour roll out the dough into an even circle. Heat a flat pan/ griddle/ tawa and place the rolled out dough on it. Cook until the lower side has small golden brown spots. Flip over and cook the other side. Press slightly if required with a spatula to ensure even cooking. Remove and keep aside. Proceed with the rest of the dough in the same manner.
To assemble the wrap
Take
one whole wheat flat bread, apply a small amount of chutney of one side, place required quantity of roasted vegetables in the center. Pull one side of the flatbread over the veggies and roll gently. Pierce with a toothpick at the center to hold the wrap if using. Enjoy the wrap :-)
Notes:
Whole wheat tortillas or even other kinds of tortillas can be substituted in place of whole wheat flat bread in a pinch.