French fries and other high calorie food like fries are the first casualties of counting calories.The downside to being careful with my diet is that even occasionally having stuff like fries makes me very guilty.So for some time now I have been experimenting with making baked spicy wedges as an healthier alternative whenever the yearning for fries hits me and my family.This was the motivation that resulted in the creation of this recipe for spicy potato wedges.
The first time I made this, I could not believe that baking it could still make the potato this crispy and tasty.It turned out really nicely.I have since refined the recipe I started out with and made a few changes.The sesame seeds also add some crunch to it that makes it quite interesting.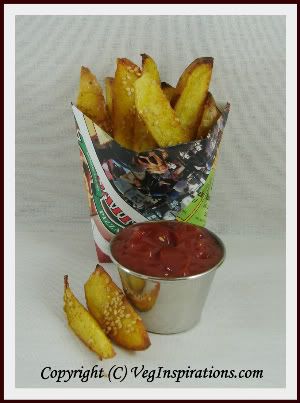 And here is a close up of the wedge......
Click here for a printable view of this recipe
Ingredients and method for Baked Spicy Potato Wedges.
2 large white potatoes
2 tbsp olive oil
1/2 tsp chili powder (or to taste) (can be substituted with cayenne)
1/4 tsp cumin powder (jeera powder)
1/4 tsp coriander powder (dhania powder)
1 tsp salt ( or according to taste)
2 tsp sesame seeds (optional)
1/4 tsp turmeric powder (optional)
1.
Preheat
oven to 450 deg F. Pre line a baking sheet/ tray with parchment paper or foil and keep aside.
2.Cut each potato in half vertically.Cut each half into wedges of desired thickness. I got about 5 to 6 wedges from each half.
3.Mix all the spices,the sesame seeds and the olive oil together in a medium sized bowl, or alternatively just mix together the spices in olive oil and leave out the sesame seeds to be sprinkled later.
4.Dip in each wedge into the spices until fully coated, or brush on the spice mixture on each wedge evenly and place pre lined baking sheet covered.Place all the wedges close to each other but taking care not to overlap any of the pieces. Sprinkle sesame seeds on the wedges (if you haven't mixed the sesame seeds with the spices)
5.Bake in the oven for about 15 minutes first. Then remove the tray and turn over each wedge and bake again for another 15 minutes.
The copyright of this content belongs to
Veginspirations.com
Serve hot with some ketchup as a side to veggie burger or just as a snack.