This recipe for low fat cranberry cookie is entirely my own creation.The trepidation that I felt as I initially mixed in the flour and all the other ingredients was replaced by joy when the cookies turned out perfect.These cookies are quick and simple to make and turned out to be very tasty and chewy,a good substitute for store bought cookies or traditional ones that tend to have more calories in them.
These cookies have no butter or eggs, just some plain yogurt and a little oil. Yet the eggs and butter are not missed at all.Since the first time I whipped up a batch of these, I have made them a few more times. They are a perfect tea time or any time snack.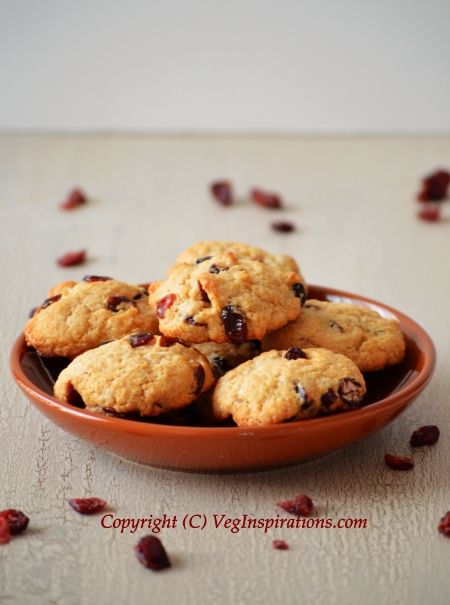 Ingredients and method to make the cranberry cookie
1 cup unbleached all purpose flour (Maida)
1 cup Whole wheat flour (Atta/godumai maavu)
3/4 cup sweetened dried cranberries ( I use craisins)
1/2 tsp salt
2 tsp baking powder
1 cup fine sugar
3/4 cup plain yogurt (curds/dahi)
1/4 cup oil
3/4 tsp vanilla extract/ essence
Pre heat oven
to 350 deg F.Line a cookie sheet with parchment paper.
In a large bowl add the all purpose flour, wheat flour, baking powder, salt, sugar, dried cranberries and mix well.
Whisk the yogurt and add to the the mixture in the bowl, then add oil and mix gently.Finally add vanilla extract, mix well.
Spoon a little on the cookie sheet about an inch apart and bake for about twenty minutes or until golden brown
Remove and cool on a wire rack and store in a airtight container.
Yields about 20 medium sized cookies
Suggested Variation :
Use 1 tsp orange extract instead of vanilla extract for a different flavor.
Now after this sweet indulgence one sweet point.Last week Sowmya of
Creative Saga
gave me the Blogging with a purpose Award,Thanks a lot for the same Sowmya
I would in turn like to pass this award to
Sunita
Mythreyee
Diksha
Karuna
Jaishree
Enjoy your award !