Usal is a dish that originated in Maharashtra, a state in the western region of India.It is traditionally served with
pav
,a kind of rustic Indian bread . It is very tasty, nutritious, low fat and protein rich,Well what more can we ask from a dish really.Did I mention it is very tasty ............hmm yes I did.
The other day this dish made a re entry into my kitchen after a long hiatus.There was no reason for the absence of this dish except probably that I got side tracked with a lot of other dishes and did not get around to making this. I made this to go with
phulkas (Indian flat bread)
this time although occasionally I make this to go with
pav (Indian bread)
which is a good combination too :)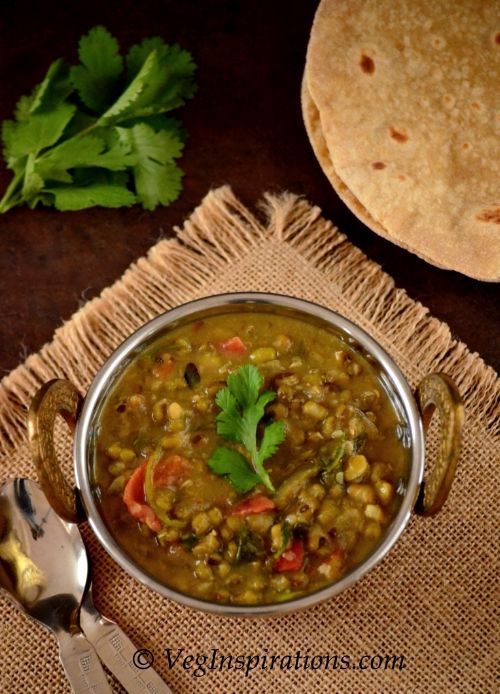 Click here for a printable view of this recipe
Ingredients and method to make the Usal
1 and 1/2 cups Mung bean (whole moong/green gram/pachai payaru) soaked overnight and sprouted
1 medium onion chopped finely (pyaaz/vengayam)
2 tomatoes chopped finely (tamatar/ thakkali)
1 tsp cumin seeds (jeera/jeeragam)
1/2 tsp grated ginger (adrak/inji)
1/2 tsp coriander powder (dhania powder)
1/2 tsp chili powder (lal mirch/molagai podi) (or to taste)
1/4 tsp turmeric powder (haldi/manjal podi)
salt to taste (namak/uppu)
1 Tbsp oil
1/2 tsp goda masala (optional, see notes)
3 to 4 tbsp finely chopped cilantro (coriander leaves/hara dhania/kothamalli) for garnish
After soaking the moong for 8 to 10 hours, remove from water and tie in a fine muslin cloth or place in a sprout maker for another 8 to 10 hours (or longer) to allow it to sprout.
Cook the sprouted beans either in pressure cooker or on the stove top until soft yet not mushy. ( I usually use the pressure cooker and it takes me about 2 whistles in mine to get it perfectly soft)
In a heavy bottomed pan, heat oil, add cumin seeds, when it sizzles add onions and saute until onions are translucent.
Add ginger and stir a few times.Add the tomatoes and stir until tomatoes are cooked and soft.
Add turmeric, coriander powder, chili powder and stir once or twice.
Add cooked beans, salt to taste, water as required to achieve required consistency and goda masala if using and simmer for a few minutes until the flavors mingle.
Garnish with cilantro, remove from heat and serve hot with
phulkas/ chapathis (Indian flat bread)
or
pav (rustic Indian bread)
Suggested variation: Use 1/2 tsp mustards seeds (sarson/rai/kadagu) and 1/2 tsp cumin seeds (jeera) instead of just cumin seeds.
Notes:
The goda masala is entirely optional, sometimes when I do not want the taste of the masala I just leave it out and make the usal with the other spices.