Khichdi (pronounced as Khitch- dee) is a simple,wholesome and nutritious combination of lentils and rice that can only be described as comfort food. There are many variations of khichdi that are made in various regions of India. This version is from Gujarat, a state in the western region of India. A classic combination with this khichdi is
Gujarati kadhi
.
I first tasted this dish a few years back when my sister in law in Bombay made this for me. I loved it and asked her for her recipe.When she shared her recipe I was rather surprised that it was so simple and needed so little garnish and yet tasted delicious.This dish now features regularly in my menu and I make it, at the very least, at least once a month.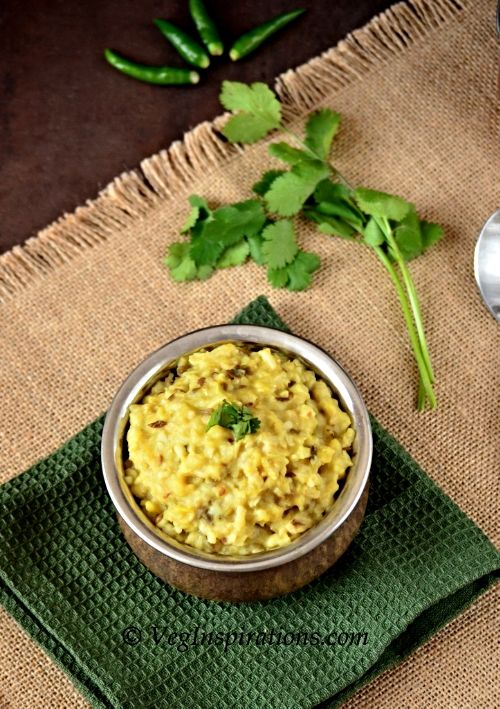 Click here for a printable view of this recipe
Ingredients and method to make the Khichdi
1 1/4 cup brown basmati (or white rice, see notes below) (chawal/ arisi)
3/4 cup split green mung bean with skin (mung dhal/payatham parappu)
4 cups of water
3-4 tsp clarified butter (ghee/nei)
1 tsp cumin seeds (jeera/ jeeragam)
1/8 tsp of asafoetida (hing/ perumgayam)
1/4 tsp turmeric powder (haldi/ manjal podi) (optional)
salt to taste (namak/uppu)
Wash the rice and lentils together and drain. Add four cups of water to the lentils and rice and pressure cook it until soft
If using the stove top simmer both the rice and lentil in sufficient water until soft and mushy.
Heat the clarified butter and add the cumin seeds to this. When it splutters, add the asafoetida and turmeric powder if using, then quickly add the rice and lentil mixture to this.
Add salt to taste and mix well. It is fine if in the process the rice and lentils get crushed slightly since for this dish does not require the rice and lentils to be separate.
A classic combination with khichdi is this
Gujarati kadhi
, but it can also be served with any kind of
curry
,
mixed vegetable sambar
and papads/ chips if you want :)
Notes:
You can use white rice too for this dish. Ideally short grain rice like sona masuri work well in this dish. For sona masuri in this dish, I usually use for 1 cup of rice about 3 cups of water. So for this proportion of rice and lentils, you would need about 4 and 1/2 cups of water, pressure cooked until soft. Proceed with the rest of the recipe in the same manner.
This khichdi tastes best hot or warm and does not taste as good when cold so be sure to serve it hot.
Related Recipes
Cilantro Mixed Vegetable Rice