If you have never been introduced to Gujarati kadhi in the past, the best way I can describe it to you would be as a light seasoned buttermilk "soup like" dish originating from the western region of India. Even though I refer to it as soup like, it is actually served more like a dhal and is had with
khichdi
or along with plain steamed rice. Of course it can be had like a light soup but the traditional manner in which it is served is with rice or
khichdi
.
Here
is the wiki entry for kadhi if you want to read more about it.
Khichdi
with kadhi is my favorite"go to" combination for all those times when I am in the mood for some simple, nourishing comfort food. Whether I am back from a trip or just feeling a little harried or rushed, this simple combination never fails to satisfy. As is typical for a lot of dishes from Gujarati cuisine, kadhi too has a touch of sweet, a touch of tart and a touch of spice.If you are looking for a simple, home cooked, no fuss dinner one of these days, give this combination a try, I am sure you will find it immensely satisfying as well:-)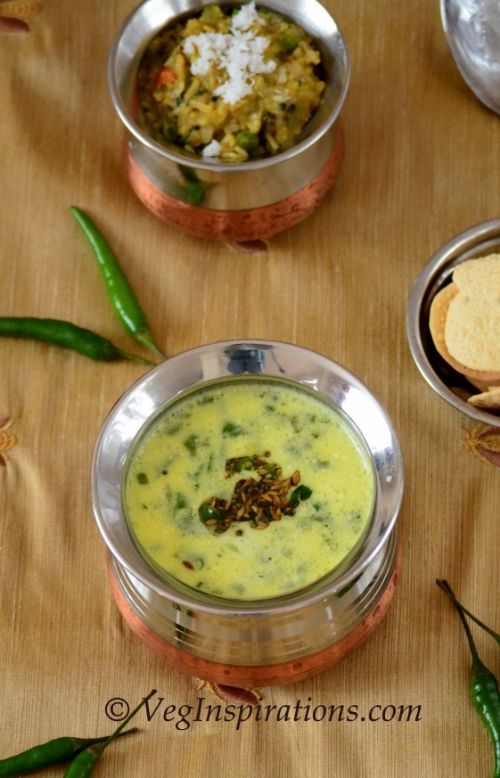 Click here for a printable view of this recipe
Ingredients and Method to make Gujarati Kadhi
1 cup plain yogurt (curds/dahi/thayir) + 1 cup water whisked together (or 2 cups of buttermilk)
yogurt that is slightly tart tastes good in this dish
2 tbsp chick pea flour (besan/ kadalai maavu) mixed with 1/4 to 1/2 cup water
1/4 tsp turmeric powder (haldi/manjal podi)
salt to taste (namak/uppu)
3 1/2 tsp grated jaggery (or a couple of tsp of sugar)
Seasoning
4 Thai or Indian variety green chilies (hari mirch/pachai molagai) cut very fine (or to taste)
1 sliver of ginger minced (adrak/inji)(optional)
1 to 1 1/2 tsp oil
1/2 tsp mustard seeds (sarson/rai/kadagu)
1/2 tsp cumin seeds (jeera/jeeragam)
pinch of asafoetida powder (hing/ perungayam)
a few tbsp of finely chopped cilantro (coriander leaves/hara dhania/kothamalli) for garnish.
Whisk the yogurt
and water together until it is smooth. Mix chick pea flour with water making sure there are no lumps formed. Add this chick pea flour + water to the butter milk and mix well.
Add salt to taste, jaggery, turmeric powder and mix well. Place on low to medium low heat and allow the mixture to heat through.
In a small pan heat oil, add mustard seeds to it. When the seeds begin to splutter add cumin seeds. When cumin begins to sizzle add green chilies, ginger, and asafoetida powder and stir a few times. Pour this entire mixture on the buttermilk mixture and mix well.
The copyright of this content belongs to
Veginspirations.com
Once the kadhi begins to froth lightly, take off the heat. Garnish with cilantro and serve hot over a bed of hot steaming rice, or with
hot khichdi
or even as a light soup.