This simple and delightful dish comes from Maharashtra, a state in the western region of India. This is traditionally served for breakfast or as a light snack but can also be served as a light dinner. This is one of my favorite dishes and it never fails to amaze me that such simple flavors can come together to form such a tasty final product.
This khichdi also evokes some good memories for me. I remember when my mother used to make this I used to "assist" her in peeling the skin off the peanuts and used to consume quite a few of the peanuts along the way and " borrowing" a few soaked sago pearls to play with as my mother was getting this dish ready.
Sago and Tapioca are kind of similar, and one is often mistaken for the other. But there are differences, to find out more about sago check here and about tapioca here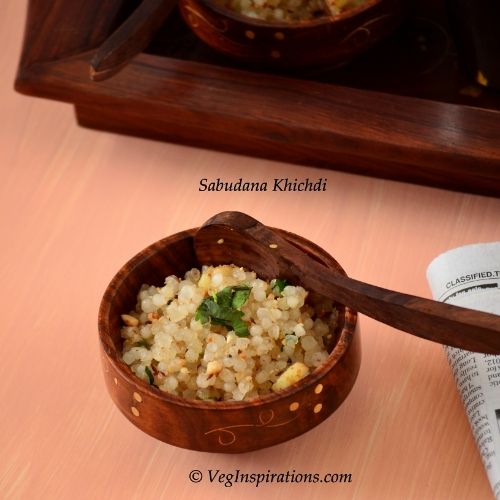 Ingredients and Method to make Sabudana Khichdi
1 1/4 cups of Sago pearls (Sabudana/ Javarsi)
1/2 cup raw peanuts/ or 1/2 cup unsalted roasted peanuts (Mungphali/ Shingdana/Kadalai)
1 large potato or 2 small ones peeled and cut into small pieces (Aloo/Urlakizhangu)
3/4 tsp cumin seeds (jeera/jeeragam)
3 green chillies (cut very finely) (or to taste)
half a handful of cilantro (coriander leaves) washed and cut fine for garnish
Soaking time for the sabudana/ sago is about 5 hours.
First wash the sago in water and drain completely leaving about 4 to 5 tbsp of water in it. Every hour or so, add a few more tablespoons of water to the sago (about 2 tbsp each time) and mix the sago well.Do not add too much water to the sago as it will become mushy when cooked and will become a sticky mess. When the sago is about double the original size and soft it is ready to cook.
If you are using raw peanuts dry roast peanuts until the peanuts are evenly roasted and keep aside. If you choose you may skin the peanuts when cool and grind to a powder in a spice grinder. Do not grind too long, use short bursts of power otherwise the nut butters can cause clumping.You may grind the peanuts to a fine powder or keep it coarse according to your choice.
Heat oil in a large heavy bottomed pan and add cumin seeds to it, when the cumin seeds splutter add green chillies to it. When the green chillies start turning whitish add potatoes and saute for a little while until the potatoes are cooked.
Add the sago to this, saute for a minute or so, add the ground peanut powder and salt to taste and saute until the sago seems a little softer and transparent (about a couple of minutes). Do not keep the pan closed with a lid at this stage as the sago will become mushy.
Garnish with cilantro and serve hot.
This dish tastes best when served hot and fresh on the day it is made. In case you refrigerate it heat it in a microwave before serving.