Serendipity is described as an aptitude for making desirable discoveries by accident. Wondering why I am explaining the word serendipity as an introduction to a recipe post on my food blog? That's because the manner in which I landed up with this recipe can only be described as serendipity. The other day I was planning to make a sweet for a special occasion and wanted to make something with cashews. Now this in itself has to be a momentous event since I rarely think of making traditional sweets with sugar in them. Maybe I should have made another sweet to celebrate the fact that I made the first one....:-)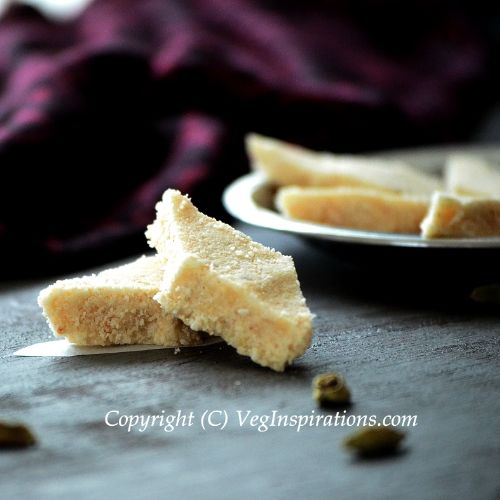 Anyway getting back to the recipe, I mentioned to my in laws that I was planning to make some kind of cashew sweet that day. Co incidentally just a few hours before my call to them, some family friends had visited them and had gotten this delicious home made cashew sweet for them. When my father in law tasted the sweet he loved it and asked them for the recipe. They shared their recipe with him and he shared it with me and I got to try this sweet immediately.Talk about good timing huh.......so thanks to family friends and my father in law here is a sweet that is delicious and simple to make.
1/2 cup fine rava (fine semolina, semolina flour)
1/2 cup cashewnuts (raw, unsalted) powdered fine (see notes)
1/4 cup fresh / frozen grated coconut (if frozen thaw to room temperature)
1 cup sugar (see notes)
1/3 cup water
4 to 5 green cardamom seeds powdered fine
2 tbsp clarified butter (ghee/nei) and a little extra for greasing the dish.
Grease a large flat dish with few drops of clarified butter and keep aside.
In a large heavy bottomed pan, dry roast semolina until it emits an aroma on low to medium low heat, remove roasted semolina into a plate/ tray.
Dry roast powdered cashew for a couple of minutes, not too much just a little. Remove and add this powder to the roasted semolina.
In the same pan, dry roast grated coconut for a couple of minutes. Remove and add to the other two roasted items. Powder cardamom and add to the powdered mixture.
In the same pan, add sugar and water and heat on low to medium low heat. When the sugar has melted and begins to thicken a little,lower heat, add a drop of syrup to a plate, cool slightly and check to see if it has achieved one string consistency. Single string consistency means when the syrup is held between the thumb and forefinger and pulled apart, it will form a light single string.
The copyright of this content belongs to
Veginspirations.com
If the right consistency is achieved, keeping the heat low, add the powdered, roasted semolina+cashew+coconut mixture to it, then add clarified butter/ ghee and mix well. Allow to heat just a tad, when mixture begins to froth a little, remove and pour immediately on the pre greased tray/ dish.
Cool and cut into square or diamond shapes.
This quantity yielded me approx 18 to 20 pieces, yield will depend on the how thick or thin you spread the mixture and the size each square or diamond is cut.
Store the burfi in an airtight container. It does not require any refrigeration and can be stored at room temperature for 4 to 5 days (if it lasts that long )
Notes:
With 1 cup of sugar this sweet is pretty "sweet" if you like you sweet milder, you can reduce the quantity of sugar to 3/4 cup.
When powdering cashews, use the pulse feature or short bursts of power in the blender/ mixer/ processor. Over processing can cause clumping because of the nut butter in the cashew.