Dosai (crepe) is an integral part of the diet of most people from South India. Dosai usually means a crepe made out of rice and black gram lentil. The normal procedure to make this is to soak the rice and lentil overnight, then grind the mixture to make the batter which is then left to ferment for about twelve hours and only then is it used to make the crepe.This incredibly delicious dish is very popular and this batter is quite convenient to have at hand for quick lunches and dinners or snacks too.
Of course this is not the only type of dosai made in Indian homes, there are a wide variety of recipes.Some of these recipes call for the use of different types of flours mixed together with water and seasonings for flavor.In the interest of time and convenience I prefer the latter type of dosai when in a hurry.
But none of the traditional recipes of dosai ever use oats in them.A pity that, because oats is definitely one of my favorite cereal grains. Not only is it chock full of health benefits, but it is also so versatile and can be used in a variety of recipes, both sweet and savory.
I experimented with using oat flour in making this dosai for the first time and just made up this recipe as I went.We loved the taste of this and this recipe has definitely earned its place in my kitchen :-)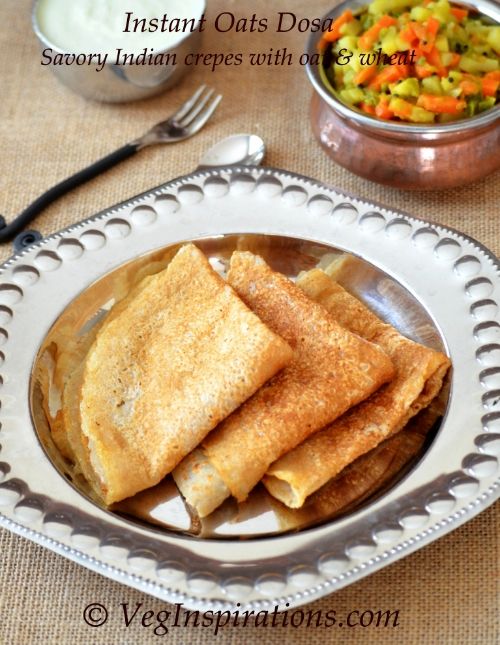 Click here for a printable view of this recipe
Ingredients and method to make Savory Oat Crepe (Oat Dosai)
1 1/2 cup oat flour * (see notes below )
1 cup wheat flour (atta/ godumai maavu)
3/4 cup Semolina (rava)
salt to taste (approximately about 2 tsp )
3 cups of water (approximately)
For tempering (optional)
2 tsp oil
3/4 tsp cumin seeds (jeera/ jeeragam)
5 small green chillies cut very fine (or according to taste) (hara mirch/ pachai molagai)
handful of cilantro (coriander leaves/ hara dhania/ kothamalli) cut very fine
Few spoons of sesame oil (or any other flavorless oil) to shallow fry
In a large bowl mix the oat flour,wheat flour, semolina and salt well
Add water a little at a time to the mixed flours and keep mixing as you add water.Make a thick batter of pouring conistency
In a small pan heat the oil, add cumin seeds and when it splutters add green chillies. When the green chillies start turning color,pour the entire oil with the cumin and green chillies into the batter.
Mix well and keep aside for about fifteen minutes.
Heat a tawa/skillet/ griddle on medium high heat.
Pour a ladleful of the batter on the skillet and spread quickly into a thin circle.(for really crisp dosai/crepe make this as thin as possible for softer ones it can be a little thick)
Pour few drops of sesame oil on side facing upwards.
When the lower side is done (it gets a little brown) use a spatula to flip the crepe and let it cook on the other side for a little while.
Flip over to check if done (there will be small pinkish brown spots )
Here is a video clip of the process. It is not of this dosai, but it gives you an idea of how this process is done....
Serve hot with choice of chutney/ sambar/ spice powder/ molaga podi
Yields approximately 15 to 16
Notes :
For oat flour, process/ grind quick cooking oat meal ( I used Quaker 1 minute oat) in a spice grinder/ mixer until powdered fine.
The tempering/ seasoning is optional, I have made this dosa with and without and it tastes good either way.
If you are looking for instant dosa varieties, here are a few more....