Growing up I do not ever remember having any kind of sakkarai pongal with ellu (til) in it. Sakkarai pongal is a kind of a sweet rice that is sweetened with jaggery. When my mother in law mentioned this dish to me some time back I wondered how it would taste but put aside the idea of making it in favor of making
savory sesame rice.
In rice dishes I almost always favor making savory dishes rather than sweet ones. They are so easy to pair with a vegetable side dish to make a complete meal. This weekend though I had the opportunity to try this sweet rice and we liked it a lot.
The use of jaggery in this sweet also makes it a little more diet friendly for those that are avoiding sugar and watching calories.Jaggery is a type of sugar made out of sugarcane and is used a lot in Indian cooking. It is considered to be more wholesome than refined sugar since it retains more mineral salts.For a more detailed article on jaggery and the different names of jaggery check out
this link
.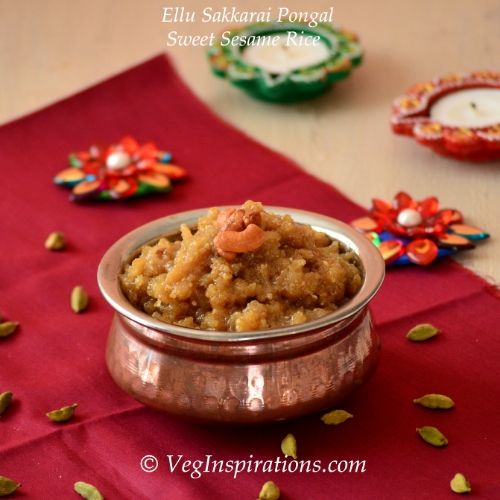 Click here for a printable view of this recipe
Ingredients and method to make Ellu Sakkarai Pongal/ Sweet Sesame Rice.
1 and 1/2 cups of cooked rice (either brown or white) (I used brown)
6 tbsp brown sesame seeds (til/ ellu)
1 cup grated jaggery (see notes)
2 tsp clarified butter (ghee/ nei)
5 cardamom seeds powdered fine
Optional garnish
1 tsp clarified butter/ghee/nei
1 tbsp broken pieces of cashew nuts (kaju)
Pressure cook rice until soft. I used brown rice, so for about 1/2 cup of uncooked rice I used about 1 cup of water. If you are using white rice, cook as per manufacturers directions. Some kinds of white raw rice require about 1.5 cups for 1 cup of rice and some require 2-3 cups of water. Remove from heat.
Dry roast brown sesame seeds until they turn a little more brown and keep aside. When cooler grind the sesame seeds into a reasonable powder, it does not have to be very fine.
In a large heavy bottomed pan place the grated jaggery with cooked rice and place on medium to low heat. Keep stirring frequently until the jaggery melts and allow the mixture to simmer for a few minutes.
When the mixture begins to thicken slightly, add powdered sesame (til/ ellu) and mix well.
The copyright of this content belongs to
Veginspirations.com
Add clarified butter and cardamom powder to this mixture and keep stirring it on low heat.
When the mixture starts thickens a little more, remove from heat. Do remember that once it cools a little it thickens a bit more. If you plan to garnish, heat clarified butter in a small pan. Add broken cashew pieces to it and stir until the cashews turn an even reddish color. Remove and pour entire mixture on the pongal.
Serves about 2
Notes:
If you like your sweets very mild, then you might want to reduce the quantity of jaggery to about 3/4 cup .