Mushrooms are tasty, versatile, healthy and low in fat. Mushrooms contain 80 to 90 percent water and also about 10 percent of their dry weight is made up of fiber making it an ideal food for people watching their weight. In addition mushrooms contain a great deal of potassium, a mineral that helps in lowering elevated blood pressure and also reduces the risk of stroke. Mushrooms are also a good source of selenium, riboflavin and niacin.
Northern Indian cuisine has curries that contain cream (malai) in their gravy. This is a very popular type of curry and a variety of vegetables are made with this type of gravy as their base. Since using cream is not very diet friendly, I had given up on making these type of curries for quite sometime.
On one of our long conversations when we were swapping health tips,my cousin S from Dallas told me that she substitutes cashew paste to give the gravy a creamy texture instead of cream and that it worked very well for her.
This idea appealed to me and I tried it and loved the texture and taste that cashew gave the dish.So thanks to cousin S and her tip, here is a creamy mushroom curry that now makes regular appearances in my kitchen.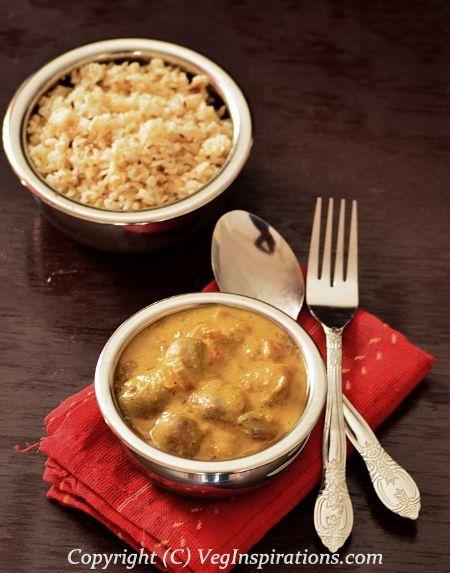 Click here for a printable view of this recipe
Ingredients and method to make Creamy mushroom curry
1 large onion (cut fine) (pyaaz/vengayam)
3 tomatoes blanched and chopped * see notes (tamatar/ thakkali)
4 cups button mushrooms quartered (khumb)
1 think sliver ginger (either ground or grated fine) (adrak/ inji)
1 tsp minced garlic (lehsun/ poondu)
salt to taste (namak/ uppu)
1/4 tsp turmeric (haldi/manjal podi)
1/4 tsp cumin powder (jeera / jeeragam powder)
1/4 tsp coriander powder (dhania)
1/2 tsp red chilli powder (or to taste) (lal mirch)
1/4 cup cashew pieces (kaju)
handful of cilantro for garnish (washed and cut fine) (coriander leaves/ hara dhania)
Soak the cashews in water for about 30 minutes. Grind into a smooth paste and keep aside
Heat oil in a large heavy bottomed pan and add onions to this and saute until the onions are transparent.
Add fine grated ginger and minced garlic and stir a few times.
Add chopped blanched tomatoes and saute until the tomatoes are soft and mushy
Add all the dry spice powders and saute for a few seconds.
Add the mushrooms and salt to taste,mix well and add water.
Let the mushrooms cook on a low to medium heat until done.
When the mushrooms are softened, add cashew paste and simmer for a minute.
Add water to achieve required consistency, lower heat and simmer for a couple of minutes on low heat for the flavors to mingle.
Garnish with cut cilantro and serve hot with cumin rice, plain rice, roti or any type of bread
Heat water in a large pan. When water is hot, take the pan off the stove. Add tomatoes to the hot water and keep for a couple of minutes. You will see the skin on the tomatoes split slightly, remove the tomatoes from the hot water using tongs and place in another bowl with cold water in it. When tomatoes are cooler, remove from water and peel off the skin. Chop the tomatoes and proceed with the rest of the recipe.