For a while now I have been wanting to make my own garam masala. Fresh ground spices always add far more flavor and enhance the taste of the dishes that they are used in..... I was additionally motivated when I came across
this article in Time magazine
that suggested that some of the masalas that had been tested were shown to contain lead in them. A startling discovery that made me determined to start making my own masalas....... well, at least some of the masalas that I use most often:-)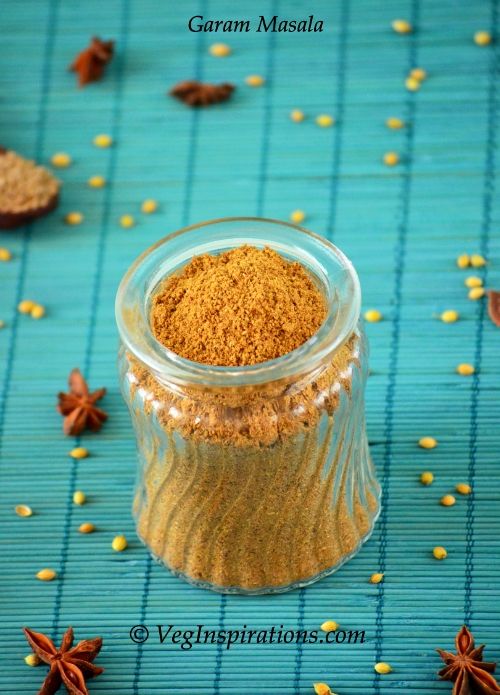 Various sources including books and friends gave me an idea of the main ingredients of garam masala. I just went with my instincts on the quantities to be used in the masala.The results were awesome, the masala was so very fragrant and flavorful. Unlike some of the masalas that are required in south Indian cooking like
this molaga podi (spice powder)
or
this thengai podi (coconut- lentil powder)
, making garam masala is much more simpler. It only entails a light roasting of all the spices together, some cooling and grinding and voila you have a garam masala that is miles ahead in terms of taste and flavor when compared to store bought ones.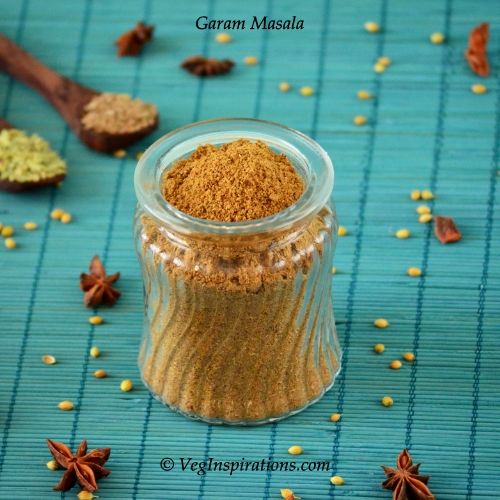 Click here for a printable view of this recipe
Ingredients and Method to make Garam Masala
1/4 cup fennel seeds (saunf/ sombu)
1/4 cup cumin seeds (jeera/ jeeragam)
1/4 cup coriander seeds (Saboot dhania/ kothamalli virai)
5 Dry red chili (Lal Mirch)
7 - 1 inch cinnamon sticks (dalchini/ pattai)
12 Black cardamom pods (Badi Elaichi)
1 tbsp cloves (lavang/ kramb)
10 small or 5 large bay leaves (tej patta )
5 star anise (Chakra phool)
1 tbsp black cumin seeds (shah jeera)
1 tbsp whole black pepper (kali miri)
1/2 tbsp ground nutmeg (jaiphal)
Dry roast
all the spices together on low heat in a heavy bottomed pan for 4 to 5 minutes or until aromatic.
The copyright of this content belongs to
Veginspirations.com
Cool and powder in the spice grinder or a coffee bean grinder until fine. Remove and store in an air tight container or bottle and use as required in recipes.
Some recipes that use Garam masala
Kadai Paneer ( Indian Cottage Cheese curry)
Baingan Bharta (Vegan Oven Roasted Eggplant Curry)
Punjabi Aloo Gobi (Cauliflower and Potato curry)
Aloo Palak (Potatoes in spinach gravy curry)
Gobi Chana Masala (Cauliflower and chickpeas curry)
Chana Palak (Spinach and Chickpeas curry)
Mushroom Peas curry with yogurt tomato gravy
Rajma (Red Kidney Bean Curry)