Pedha in Indian cuisine refers to a fudge made basically out of milk and sugar with some types of additional flavors added like saffron, cardamom, pistachio or a combination of these.In India this is made out of Mawa which is a type of condensed milk that is almost dry and is used in a variety of milk based sweets. Any sweet shop in India worth its name, would have at least three to four varieties of this pedha, in various shapes made fresh each day. This sweet has always been a family favorite and every special occasion has warranted a trip to the sweet shop or Mithai as they are known in India to buy these pedhas to celebrate the occasion or event.
The idea of making this fudge at home never even crossed my mind in all these years. I simply assumed that it would entail a very difficult and time consuming process and somehow I never had the inclination to try such a process to make a sweet of all things, knowing I would feel guilty when I indulge in it too. But with the festive season here it seemed like a good time to try something sweet and the idea of making this pedha/ fudge got stuck in my mind. I have seen quite a few recipes for making pedha in a lot of different sites but this one that I saw on Uma's blog remained with me.
I modified her recipe slightly, I have seen some recipes that are similar but also add some butter but I skipped that part and just went with the condensed milk and milk powder version for my first try. I also added saffron and pitachio's in some and cardamom and almond slivers in some to give them more flavors. I loved the simplicity of this recipe and the speed with which this sweet got done is a definite plus and makes this sweet my new favorite when I am short on time and need to make something yum. If you are done having cookies and cakes this season and are looking for a different type of sweet you could probably try this for a quick and simple treat.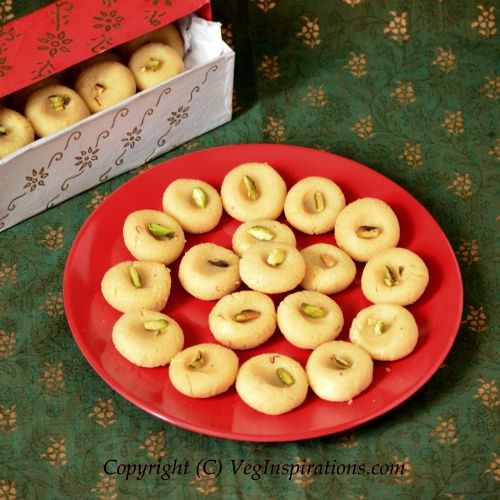 Ingredients and Method to make Microwave Doodh Pedha (Simple Milk Fudge)
1- 14 oz can of sweetened condensed milk ( approximately 1 1/4 cups of sweetened condensed milk)
1 3/4 cups of milk powder (I used carnation milk powder)
1/8 tsp of cardamom powder (elaichi/ ellakai)
a small pinch of saffron (kesar/ kumkuma poo) (Read notes for some variations in flavor)
2 heaped tbsp clarified butter/ ghee /nei (optional, see notes)
a little extra clarified butter/ ghee to apply on hands to shape the pedhas (opt, see notes)
slivers of almonds( unsalted)to use as decoration
few slivers of pistachio (unsalted) to use as decoration
In a large and deep microwave safe dish, add the condensed milk and the milk powder and mix well. Add clarified butter/ ghee, cardamom powder and saffron to this and mix well.
Place in the microwave and heat on high for a minute.
Remove mix well and repeat this step for another minute.
Place this back in the microwave if required and cook in 30 seconds increments until done.
(It took me about 2 1/2 minutes to get this quantity to the required consistency )
To check if done, cool the mixture slightly and if you are able to roll between your fingers you know it is done. Try not to overcook this mixture as it will result in hard pedhas that are difficult to shape and not as tasty too.
Cool mixture until it is touchable, apply a little clarified butter to palms and roll into pedha shapes ie roll into small gooseberry sized balls, then flatten slightly. (For those of you who have never seen these, this looks like mini cutlets/ patties) . This time I pressed down with my finger in the center to give it a little dent so that I could place the slivered pistachios in the center.
Place the almond/ pistachio sliver on top of the pedha and press lightly while the pedha is still warm.
Cool thoroughly and place in an airtight container and can be kept without refrigeration for about 4-6 days. Tastes best within a 3 to 4 days of making it
Yield depends on the size of each pedha. This quantity of mixture has yielded anywhere between 22 to 35 pedhas depending on the size I make with it each time.
Notes:
I have made this with and without the clarified butter in the recipe and while both of them are delicious, I just thought that the clarified butter added a little something more to the recipe so I would recommend adding it.
I have made this with and without applying clarified butter on my palms. I find applying a little clarified butter on the palms speeds up the process of shaping these pedhas. Alternatively you can also keep you hands very very slightly moist to help shape the pedhas.
If you have masala milk powders at home such as Kesar pista milk powder you can use about 1 to 2 tsp according to taste to flavor this quantity of pedhas instead of saffron or cardamom powder.
Time taken to cook the pedhas will vary based on the output of the microwave used and the depth and size of the dish used.
And one last thing, if the milk powder you have seems to have a very thick and granular texture, give it a turn in the blender/ mixer so that it turns into fine powder before using in this recipe.