This curry made with tomatoes and onions is from Gujarat, a region in the western part of India. I am not sure though, of its origin in my kitchen :-) I believe I read this recipe a long while ago in some book or magazine and have been making it since then. I love the tangy spicy taste of this curry and find the speed and simplicity of this a real plus, especially when I am in a hurry or when I am running out of veggies.
Before I get to it though, let me share something completely off topic. Recently while working on my glossary I was researching the health benefits of mustard seeds.If you are familiar with Indian cooking then you know that mustard seeds play a prominent role in most dishes especially curries. I never really gave any thought to mustard seeds and if I would have had to say why they were used in cooking I would have concluded that they were there for taste and for decorative purposes :-) I am sure that my fellow bloggers will agree that mustard seeds, split gram lentil, cilantro and other garnishes have gained special importance as decoration, now that we have to take pictures for our blogs :-)
Anyway I was amazed when I learned that mustard seeds actually are rich in selenium and omega-3 fatty acids. They are also a good source of phosphorous, magnesium iron, zinc and calcium. Really, who knew? I, for one did not..... hmmmm so the next time I feel like skipping the seasoning for my chutney, I should keep
this article in mind :)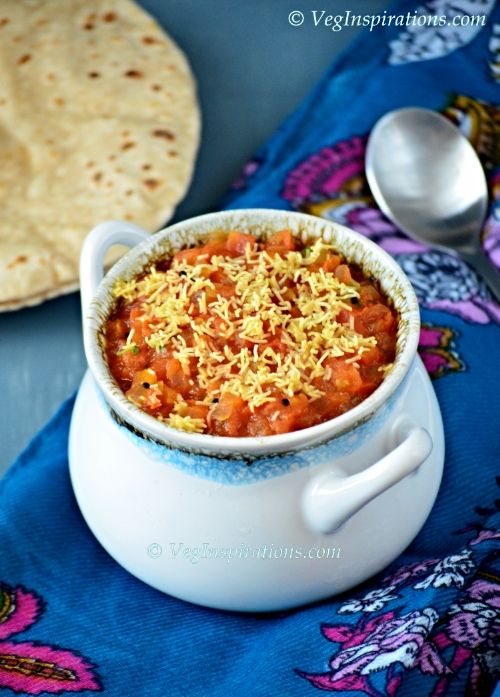 Click here for a printable view of this recipe
Ingredients and Method to make sev tomato nu shaak
2 large onions cut fine (yielded 2 cups of cut pieces) (pyaaz/vengayam)
5 to 6 large tomatoes cut into 1/4 inch pieces (yielded 4 cups of cut pieces) (tamatar/thakkali)
1 Tbsp oil
3/4 tsp mustard seeds (rai/sarson/kadagu)
3/4 tsp cumin seeds (jeera/jeeragam)
1/4 tsp turmeric (haldi/ manjal podi)
salt to taste (namak/uppu)
1/2 tsp chilli powder ( or according to taste)
1 to 2 heaped tsp sugar (shakkar/sakkarai)
a pinch of asafoetida powder (hing/ perungayam) (optional)
sev according to taste (fried gram flour noodles) (available in all Indian groceries)
2 to 3 Tbsp cilantro cut fine (coriander leaves/ hara dhania/ kothamalli)(optional)
Heat oil in a large heavy bottomed pan. Add mustard seeds to it, when the seeds splutter, add cumin seeds to this oil.
When the cumin seeds sizzle,add asafoetida if using stir once or twice, then add onions and saute until the onions become transparent.
Add tomatoes, turmeric powder, salt, sugar and chilli powder and stir until the tomatoes are cooked and become soft.
Garnish with cilantro and sev just before serving and serve hot with
phulkas
/
chapathis/ rotlis
or any other kind of flat bread.
Serves approximately 2
Notes:If you plan to serve this a while after you make it, add sev just before serving.
Related Recipes
Creamy Mushroom Curry