Pav Bhaji can best be described as rustic Indian bread with curried mashed vegetables. Pav=bread and Bhaji=curried vegetables. This is a famous street food of India and is offered in most restaurants and stalls in all major metros of India. Bhaji here means curry but this simple term and my picture below, both seem inadequate and don't do justice to this unique and delicious curry served with a garnish of cilantro and finely cut onions and a dollop of butter on top.
It is to be had along with with pav (bread) that is cut in half and toasted with some butter too.In fact the generous use of butter in this dish is one of the main reasons that gives one pause while ordering this dish at restaurants.Of course the homemade version of this curry is way better, since the quantity of oil/butter/fat can be substantially reduced making it much more healthier than the restaurant version.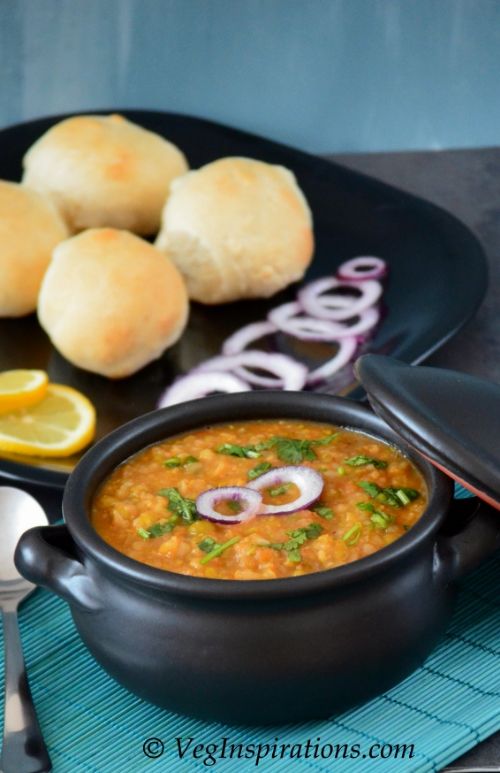 Ingredients and method to make Pav Bhaji
1 1/2 cups green bell pepper/capsicum (simla mirch/koda molagai) deseeded and cut into little quarter inch squares)
3 large tomatoes cut fine (about 1 1/2 cups)
1 tsp finely chopped / grated ginger (adrak/inji)
3 cups cauliflower florets
1 cup green peas (fresh or frozen)
3 cups cooked, skinned and mashed potatoes (about 4 large white potatoes)
2 and 1/2 tsp pav bhaji masala (or according to taste) (I use my homemade version of pav bhaji masala that can be found here)
1/2 tsp chilli powder (or according to taste)
1 Tbsp butter (oil for a vegan version)
1 small red onion cut fine (pyaaz/vengayam)( or according to taste)
2-3 small wedges of lemon
handful of cilantro cut fine (coriander leaves/hara dhania/kothamalli)
1-2 Tbsp butter (or vegan non diary butter for a vegan version)
a little additional butter if you want to toast the pav
Heat butter/oil in a large heavy bottomed pan.
Add tomatoes and grated ginger to this and saute until the tomatoes get soft and mushy.
Add cauliflower florets, green peas and green bell pepper, chilli powder, pav bhaji masala and salt to taste and saute for a minute.
Add water as required and cook the vegetables until soft.
Add the cooked mashed potatoes to the cooked vegetables,lower heat and using a potato masher mash the vegetables together.
Adjust spices according to taste and add water to achieve required consistency.
Let this simmer for a few minutes on a low flame, so that the flavors blend well.
Remove and serve with a ingredients mentioned for garnish and toasted pav on the side.