Sweet Potatoes are some of the most nutritious vegetables and have been found to have significant anti oxidant properties.This is also an excellent source of vitamin A in the form of beta carotene, good source of vitamin C, manganese, good source of copper, dietary fiber, iron and potassium.Since sweet potatoes are very rich in beta carotene and vitamin C and vitamin B complex, they are also excellent immunity boosters.Sweet Potatoes are also said to be beneficial in stabilizing blood sugar levels.
Ever since I read about these health benefits of sweet potato I have been trying to include this vegetable in my weekly menu. Unfortunately R is not too fond of this vegetable and does not like the sweetness of it, so I have been on a mission to try and disguise it in as many ways as possible and sneak it into our diet. This sweet potato roti is one such successful method to sneak in this vegetable into our diet. In fact this was such a successful disguise that R was not even able to detect that the roti's he had been relishing actually had sweet potatoes in them.The signature sweetness of the sweet potato is not very obvious in this dish. At the same time the roti's turned out very soft and tasted very nice. In fact R actually asked me to make more of them, giving it his seal of approval in addition to mine :-)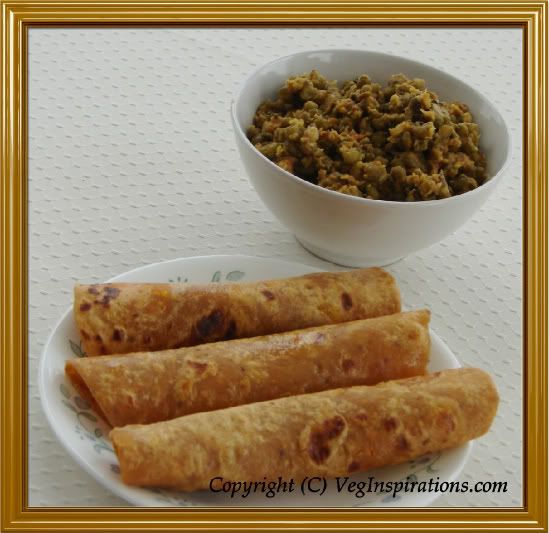 Ingredients and Method to make Sweet Potato Roti
2 small sweet potatoes peeled cubed cooked and mashed (yielded about 2/3 cup of mashed sweet potato)
2 cups whole wheat flour (atta)
1/2 tsp chilli powder (or according to taste)
1/8 tsp asafoetida (hing)
1/2 tsp carom seeds (ajwain)
Additional flour for dusting.
A few drops of oil or ghee (optional)
Place the peeled and cubed sweet potatoes in a microwave safe dish and cook on high in the microwave for a couple of minutes or until soft. Mix the sweet potatoes once or twice while it is getting cooked.
Cool slightly and mash until soft and pulpy and keep aside.
In a large bowl mix together whole wheat flour and all other spices and salt.
Add the mashed sweet potatoes to this and knead into a soft dough.
Add oil and continue to knead until the dough is soft and not sticky. There is no need to add water as the mashed sweet potatoes has enough moisture to make the dough. If required add more flour or a few drops of water to get the consistency required ( I did not need either flour or water additionally with these proportions the dough came out correctly)
Keep the dough covered for at least 30 minutes.
Divide the dough into even lemon sized balls. Using flour for dusting roll them out evenly as thin as you like.
Heat a griddle/ flat pan and place the rolled out dough and cook for a few minutes till it small spots begin to appear and then flip it over and cook the other side too until brown little spots appear on the other side.