Did you know that there are some communities in India where parents do not visit their married daughter at all, and if they have to visit, they will never eat anything or even drink water there. I am not sure what is the reasoning behind this thought but this is a practice that exists. Yes I did say exists....as in happening even in this generation, not only in the past and not just in Bollywood movies. You know the ones where there are lines spoken by some characters in the movie that goes something like " Main apni beti ke ghar ka ek boond paani bhi nahi loonga" which translates to " I will not have even a drop of water at my daughters home" although I have to admit it loses something in the translation. There is something about actors with deep voices delivering even such nonsense lines with perfect credibility that makes those scenes look not quite as ridiculous as they would seem otherwise, I guess that is why they are known as actors :-) I think I would have laughed for hours if someone had asked me to repeat a line like that.
Anyway I digress........ the reason for me bringing this up was that I heard of such a family recently where the parents do not visit their married daughter at all.....never.....nada....zip. This surprising fact made me wonder about the situation on different levels. Firstly that such a custom is being practiced in the twenty first century and also because I wondered about how both the daughter and her parents feel about such a practice. Do all of them ever think of all the time they are losing when they could be spend some time together. What a lost opportunity isn't it.....
Speaking of opportunity, I am one of those people that is always ready to seize the opportunity to ......have sweets! Insignificant you think? not if you have a sweet tooth such as mine! Knowing my weakness for sweets I restrain from making them or buying them unless I know that there are people around who are going to share with me. Otherwise I know I would land up eating more than I should :-) I got presented with just such an opportunity recently and came up with this idea and recipe to make this choco fudge. I was trying to re create a homemade sweet I remember having during my childhood. I just guessed at the ingredients and was very happy with the outcome of this sweet. The fudge was soft, sweet and chewy and since this sweet is flour-less it is also great for those that are avoiding gluten or avoiding all purpose flour.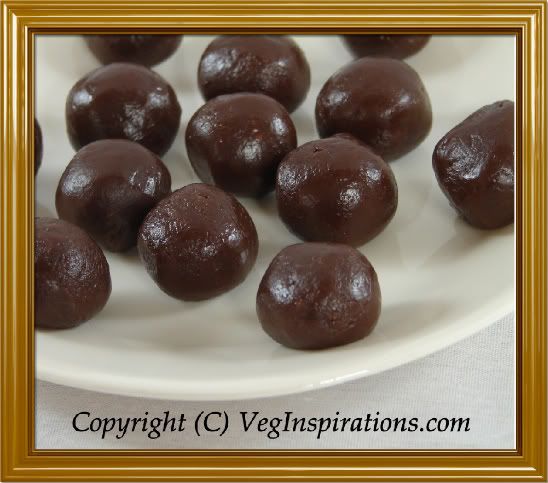 Here is another view of this fudge..........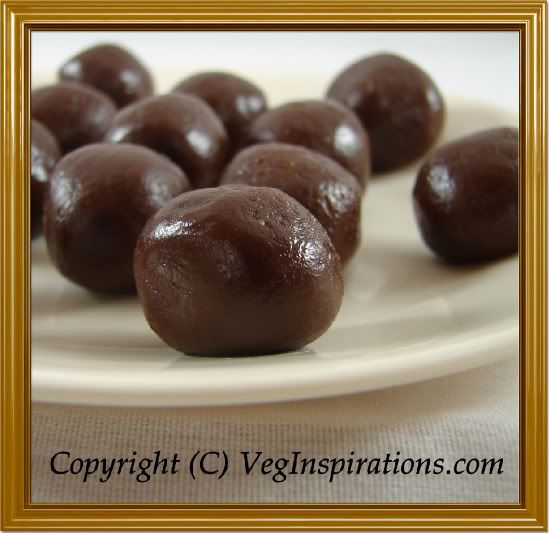 Ingredients and method to make Choco Fudge / Burfi
2 cups whole milk
1 cup non fat or any other dry milk powder
1/4 cup unsweetened cocoa
1/4 cup clarified butter (ghee)
1/2 cup almond meal (powdered whole almonds)
1 cup sugar (or according to taste)
1/4 cup sweetened condensed milk (optional)
one or two drops of clarified butter / ghee to grease a plate
Grease a slightly deep plate or any tray with a few drops of clarified butter and keep aside.
Mix all the ingredients of the fudge in a large heavy bottomed pan and place on the stove.
Heat this mixture and keep stirring it until the mixture thickens. Just keep the heat on medium so that the mixture does not burn or char.
The mixture needs to thicken till it begins to come together in the center and leave the edges of the pan. Will start to seem like a soft lump.
One way of judging if the fudge is done is to remove a very small amount off the heat in a spoon and cool it. Roll it between your fingers and it should roll and keep its shape, then the fudge is nearly done.
The copyright of this content belongs to
Veginspirations.com
Pour this mixture on the greased plate and level it with a knife.
Let cool for a few minutes and before it hardens, level again with the back of a cup.
Cut with a knife into desired shapes, either squares or diamonds. Or cool the fudge and and roll it into little balls like I have done in this picture above.
Refrigerate
the unused portion of the fudge and use within a couple of days for best freshness
Notes
This fudge is not going to be too hard and is not meant to be too, after cooling thoroughly and even refrigerating it, you will find that this continues to be a soft, chewy fudge.