Phew ! What a lengthy title.... I think this one has to have set the record for being the longest title on this site:-) Rava dosai or semolina crepes are light and lacy crepes made usually for breakfast or as a snack. Unlike other
crepes/ dosais
these are much more delicate and follow a slightly different technique while being made.
Though traditionally made as a breakfast item, these crepes manage to make their way into our dinner table occasionally, especially when we are in the mood for something light and quick for dinner. As is always the case with me, I could not resist trying to enhance these crepes / dosais and make them more healthier by adding flax when I recently made it.
I was a little nervous about this experiment as I had no other back up plans for dinner and was worried the flax would change the taste of the crepes/ dosai too much, but we all were pleasantly surprised, the flax did not interfere with the taste of the crepes/ dosai at all and in fact it enhanced the taste of the crepes, not to mention the nutrition. I have since made this many many times and have made it for guests as well, everybody loves it and nobody seems to be able to guess that it contains flax.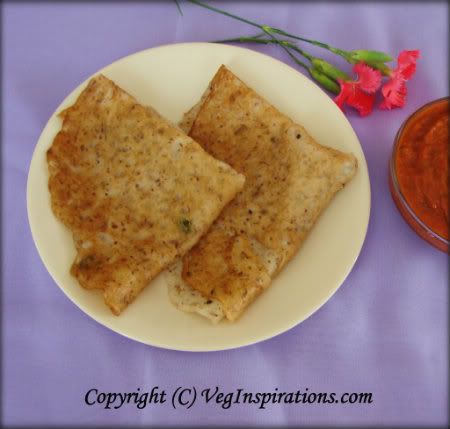 Click here for a printable view of this recipe
Ingredients and Method to make Vegan Rava Dosa with flax
1 1/2 cup medium semolina (rava)
1 1/2 cup rice flour
5 tsps flax seed meal ( powdered flax seed / alsi )
salt to taste ( I used about 1 1 /2 tsp for this quantity)
approximately 4 1/2 cups of water + a little bit more to mix in with flax seed meal
seasoning
2 tsps oil
1 tsp cumin seeds
5 Thai or Indian variety green chillies (cut fine) (or according to taste)
1 sprig of curry leaves cut into little pieces (about 7-8 leaves) (optional)
asafoetida / hing a pinch ( optional)
sesame oil as required to cook the dosais
In a large bowl mix together the rice flour , semolina and salt to taste.
In a small cup mix together the flax seed meal in a few spoons of water and whisk together thoroughly until it blends a bit.
Add approximately 4 cups of water to the mixed flours slowly, mixing thoroughly as you add water .
Add the flax seed meal + water mixture to it too and mix well.
The copyright of this content belongs to
Veginspirations.com
The batter should be only slightly thicker than milk so adjust the water as required to achieve that consistency.
Heat oil in a small pan, add cumin seeds to it, when the cumin starts to splutter add green chillies and curry leaves to it. ( If using asafoetida add at this time) , when the green chillies and curry leaves splutter add the entire mixture to the batter and mix well.
Heat a griddle/ tawa/ skillet. When hot, pour a ladle of this batter in a large circle, avoiding the center. The batter will kind of spread to the center with some gaps in between, which is fine as this is how this crepe looks like. Add half a spoon of sesame oil around the crepe and let it cook for a minute or so. When the lower side starts to brown, use a spatula to flip it over and cook the other side.
When brown spots appear on the other side, remove and serve hot with
chutney
or
sambar
of choice.
Leftover batter can be stored in the refrigerator for a couple of days.
Yield will depend on the size of the crepes.