Health experts recommend that we eat all the colors of vegetables and fruits each day. This is easier said than done, trying to include all colors of vegetables and fruits in each week itself can be quite challenging.
Healthy salads are a great way to include a variety of vegetables and fruits in our diet. Among salads I prefer light salads with interesting flavors and textures and rarely make salads with creamy or heavy dressing in it. So when the recipe for this salad caught my eye in a Sanjeev Kapoor cook book, it seemed perfectly right for a light dinner on a warm day.
I adapted the recipe from the book and made changes to suit our palate, this one turned out to be just fantastic. A colorful tasty salad that had a fantastic blend of textures and tastes. Definitely a keeper :-)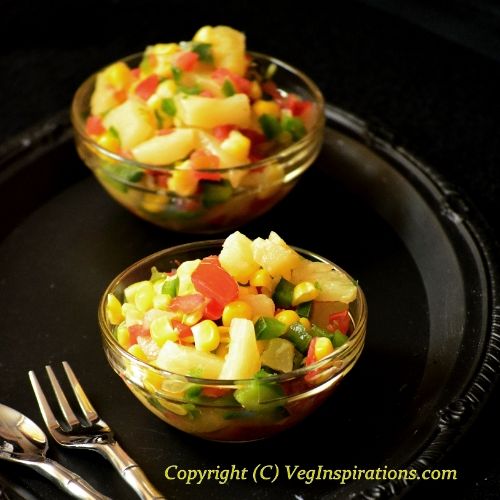 Click here for a printable view of this recipe
Ingredients and Method to make Lemon Flavored corn salad
1 1/2 cups sweet corn (fresh, frozen or canned) (see notes)
3 tomatoes deseeded and cut fine
1 green bell pepper / capsicum deseeded and cut fine
1/2 cup finely cut pineapple
crushed black pepper (according to taste)
salt to taste
2 small Indian or Thai variety green chillies (cut fine) or according to taste
3 mint leaves cut fine (optional )
Juice of half a lemon
half a handful of cilantro cut fine
Cook corn in sufficient water until soft. Drain and keep aside.
In a large bowl assemble tomatoes, green bell pepper and pineapple
Add cooked corn, crushed black pepper, green chillies, mint leaves, salt to taste and mix well.
The copyright of this content belongs to
Veginspirations.com
Add lemon juice, cilantro for garnish, mix well. Chill and serve
Notes
I used frozen sweet corn, in case you use canned corn wash thoroughly before use. In case you use fresh corn cook until soft on the stove top with sufficient water