Salads when made right, can be such an invaluable resource in maintaining a healthy diet. But in addition to their health benefits, their visual appeal on any dinner table is not to be under estimated. I find myself turning to salads more and more often these days. In salads I find myself drawn to those that include some form of protein in them like this one with mung beans in it because it can be such a complete meal in itself.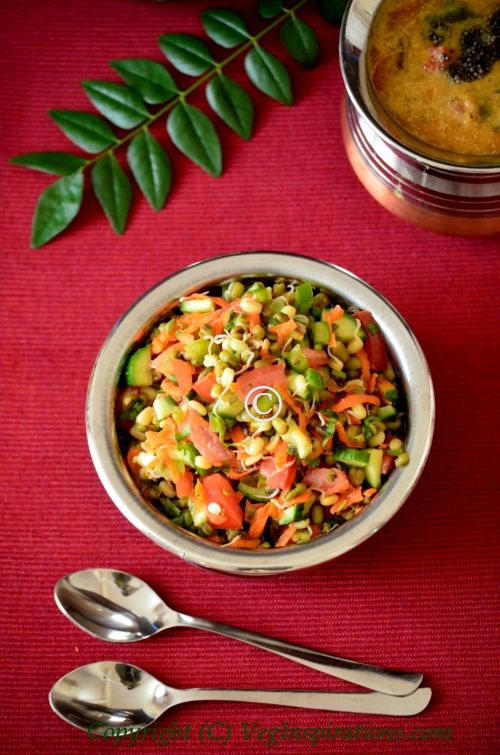 I flavored this salad very simply with cilantro, lemon and green chilies and thought it turned out both refreshing and hearty. Try this if you want to include a colorful, flavorful and healthy salad in your diet :-)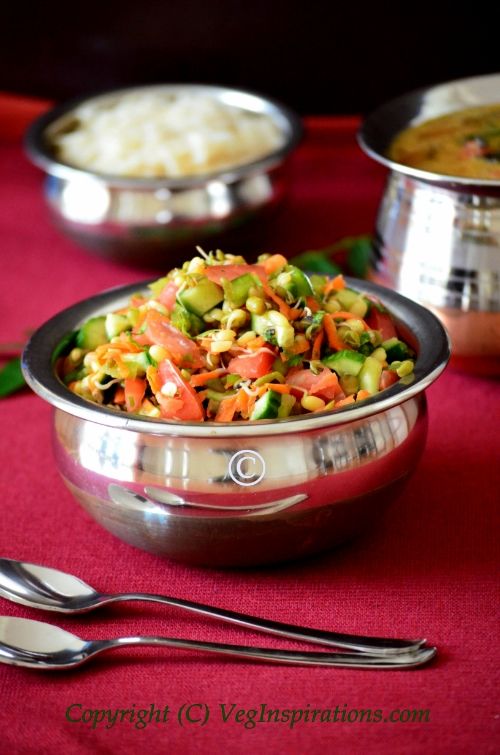 Click here for a printable view of this recipe
Ingredients and Method to make Cilantro flavored moong bean salad
1/2 cup mung bean (moong bean/ moong dhal/ paasi parappu) soaked in sufficient water overnight and allowed to sprout (see notes)
2 small tomatoes de-seeded and cut fine
1/2 of a large green bell pepper (capsicum ) or 1 very small one de-seeded and cut fine
1 large carrot grated
1 large cucumber skinned (or 3 to 4 small ones ) cut fine
1 small Indian or Thai variety green chillies cut very very fine ( or according to taste)
a generous handful cilantro (coriander leaves)
salt to taste
2 tsp lemon juice (or to taste)
After soaking the moong for 8 to 10 hours, remove from water and tie in a fine muslin cloth or place in a sprout maker for another 8 to 10 hours to allow it to sprout.
Either pressure cook or stove top cook the soaked mung beans with just enough water for it to cook until soft yet firm. Once cooked keep aside the cooked mung until thoroughly cool. I prefer the stove top because it allows me more control over the cooking process and the beans retain their shape better.
In a large bowl assemble together the green bell pepper cut fine, grated carrot, diced cucumbers and mix well and keep aside.
Add cooked mung and green chili(es) to the assembled vegetables.
Also add salt to taste and lemon juice and mix well.
The copyright of this content belongs to
Veginspirations.com
Garnish with cilantro, serve immediately at room temperature, or chill for a few hours and serve this salad chilled. ( I prefer this salad slightly chilled but it tastes good even at room temperature)
Like all salads this one too tastes best fresh, but any leftover can be stored in the refrigerator for a few hours or a day at most.
Serves approximately 3 to 4
Notes:
If you do not want to wait to sprout the mung beans. Just soak for 8 to 10 hours, drain, cook until soft yet firm and continue with the rest of the recipe.