Thanks to my hectic schedule these past few months, any type of baking has taken a back seat. But with cooler weather and the festive season both arriving, I could not resist the lure of my oven any longer. The thought of my kitchen filled with wonderful fragrances from baking kept swirling through my mind and finally I gave up and decided to bake something
immediately
.
I had bought some whole white wheat flour some time back as I had heard good things about it and heard that it gave a lighter texture to breads and cakes as compared to regular whole wheat flour. I decided to try using this flour in an apple carrot zucchini bread and I loosely based my recipe on
this one
. I added a little barley flour, reduced the sugar and increased the quantity of apple to bring some more natural sweetness. The resulting bread was so soft, moist and delicious that it has been disappearing quickly and I know I am going to make a second batch soon. This would make an excellent breakfast bread, but would taste just as good as a snack with tea or an anytime snack. I believe that the picture I was able to take does not do enough justice to this bread, trust me it tasted far better than it looks :-)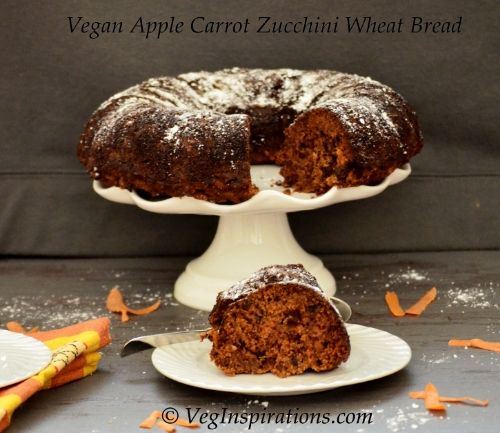 Click here for a printable view of this recipe
Ingredients and method to make Apple carrot zucchini whole wheat bread
1 cup white whole wheat flour (see notes for substitutions)
1/2 cup barley flour (see notes for substitutions)
1/2 cup all purpose flour (see notes)
3/4 cup sugar
2 tsp baking soda
1/2 tsp salt
1 tbsp cinnamon powder
3/4 cup raisins
3/4 cup walnut pieces
1 cup grated carrot (from 2 medium carrots)
1 cup peeled and grated zucchini (from 2 medium sized zucchini)
2 cup cored and grated apple (from 2 red apples) (see notes)
4 tbsp flax seed meal (powdered flax/ alsi) + 12 tbsp water
1/2 cup oil
1 tsp vanilla essence
Preheat oven to 375 deg F
In a large bowl mix all the dry ingredients (items 1 through 9) well and add grated carrots, grated zucchini and grated apple and mix well.
In a separate bowl whisk together flax seed meal + water until the mixture blends together a bit and becomes slightly gelatinous.
Mix oil to this and pour the entire oil+ flax seed mixture on the dried flour+ fruits mixture and mix gently.
Grease one large bread loaf tin or dish or two mini loaves tin or dishes and pour this mixture into it slowly.
Bake at 375 deg F for about 30 to 45 minutes for a large loaf or 20 to 35 minutes for mini loaves or until a toothpick inserted into the center of the loaf comes out clean.
Cool thoroughly, slice and serve. This makes a great breakfast bread or a healthy snack for tea time or any other time
Refrigerate the balance of the bread and use within a few days.
The copyright of this content belongs to Veginspirations.com
If you plan to keep for long you can freeze the balance of the bread and thaw it, warm it in the microwave and serve
Notes
The whole wheat flour mentioned above is not bleached whole wheat flour but unbleached flour made out of white whole wheat. This flour has a slightly lighter feel than regular whole wheat flour so the resulting bread is more airy and light.
If you do not want to use either white whole wheat flour or barley flour you can use either all purpose flour (maida) entirely or half regular whole wheat flour and half all purpose flour adding up to 2 cups of flour.
Instead of grating apple, you can also peel, core and cut the apple into small pieces.