The last few days the weather here is finally beginning to warm up a little and we are seeing day time temperatures in the mid fifties. After all that freezing and near freezing days we have seen in the last ten days or so, mid fifties or even the forties feels great.
So one of the first things we did when the weather got better was to resume our daily walks and just doing that makes me feel so much better. Exercise at home or in the gym just cannot compare to a good brisk walk outdoors, at least in my book :-) The last couple of days I have added one more reason in favor of walks....the sky. What has the sky got to do with walks,you are wondering ? When the sky looks as brilliant as it has for the last few days here, clear and beautiful with a multitude of stars , I would say everything :-) I have decided to make the most of this weather until the cold and the rains, that have been forecast, makes its way back into our area.
Moving on to the main reason for this post, panchratan dhal, which originates from North India. Panchratan literally means five jewels and this dhal probably got this name because of the five different lentils that are used in making this dhal. Needless to say, this dhal in addition to being tasty , creamy and low fat is also super nutritious.It is also very quick and simple to make and has universal appeal :-)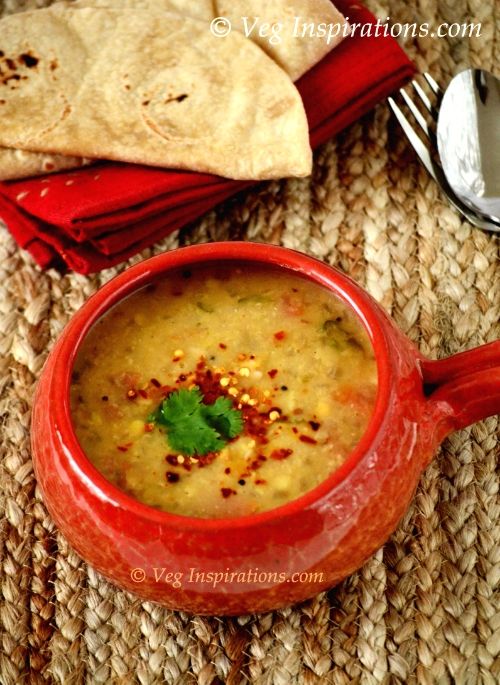 Click here for a printable view of this recipe
Ingredients and Method to make Panchratan dhal
1/2 cup split mung bean lentil ( moong dhal/paytham parappu)
1/2 cup split red lentil (masoor dhal)
1/2 cup split pigeon peas (tur dhal/ tuvaram parappu)
1/4 cup split black gram lentil ( udad dhal/ ulatham parappu)
1/4 cup split chick pea lentil (chana dhal/ kadalai parappu)
1/4 tsp turmeric powder (haldi/manjal podi)
2 medium onions cut fine (pyaaz/ vengayam)
3 medium tomatoes (tamatar/ thakkali)
1 tsp minced ginger (adrak/ inji)
1 tsp minced garlic (lehsun/ poondu)
3/4 tsp chilli powder (or to taste)
salt to taste (namak/ uppu)
1 Tbsp oil
For the seasoning
1 tsp oil
1 tsp cumin seeds (jeera/ jeeragam)
5 Thai or Indian green chillies cut fine (or according to taste) (hara mirch/ pachai molagai)
1 tsp garam masala (or to taste) To make your own garam masala check out
this post
For garnish
cilantro (coriander leaves/ hara dhania/ kothamalli) one handful washed and cut fine
Wash the five lentils together, drain. Soak it in sufficient water with 1/4 tsp turmeric powder for at least 30 minutes.
Pressure cook the lentils in the same water until soft. ( For me that took 5 whistles in the pressure cooker)
Alternatively in a large heavy bottomed pan, place the lentils and the water and cook on low heat adding water as required until all the lentils are cooked and soft.
Heat 1 tbsp oil in a large pan, add onions and saute until onions are transparent.
Then add ginger and garlic and stir for a few seconds.
Then add tomatoes and saute until tomatoes are soft and mushy.
Slightly mash the lentils and add it to the sauteed onion + tomato mixture. Add water to achieve required consistency and salt to taste, and chilli powder and allow this mixture to simmer for about 10 to 15 minutes on low heat so that the flavors blend together.
In a separate small pan, heat 1 tsp oil, add cumin seeds.
When cumin seeds start to splutter add green chillies. When green chillies start to turn color, add garam masala powder to the oil, stir it into the oil a couple of times and pour this entire seasoning on the dhal.
Mix in the seasoning and allow dhal to simmer for a few additional minutes.
Remove from heat and garnish with cilantro.
Serve hot on a bed of plain rice or along with
jeera rice
or to go with any type of
Roti/ Phulka/ Chapathi/ Indian flat bread
or
Kulcha/naan.
Serves approximately 5-6
Notes
You can easily halve or double this recipe to get required amount of dhal.