A couple of quick updates before I move on to the post. I have been on a mission to update some of my older pictures. The latest pictures I have updated are for
Minestrone Soup
,
Split pea with barley soup
and
Indo-Chinese Chowmein
. Take a peek at these posts for the latest pictures if you have a minute.
The other thing I wanted to mention was that since yesterday I have disabled anonymous comments on my site. I have been regularly getting anonymous spam comments, and it has become a nuisance now. So I decided to follow my friend
Cham's example
and stop allowing anonymous comments on this site at least for a while.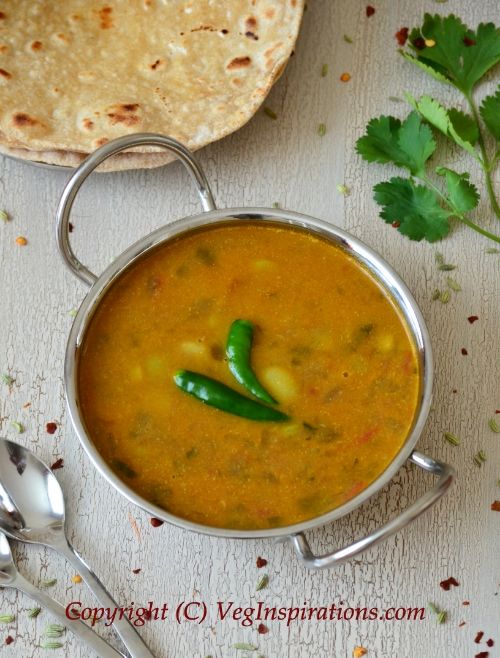 Moving on, usually I make
this curry
with lima bean since it does not require coconut milk and I rarely have it at home. But this time, since I had coconut milk on hand, I made a kurma style curry with lima bean. Everybody seems to have their own style of making kurma, this is my take on kurma.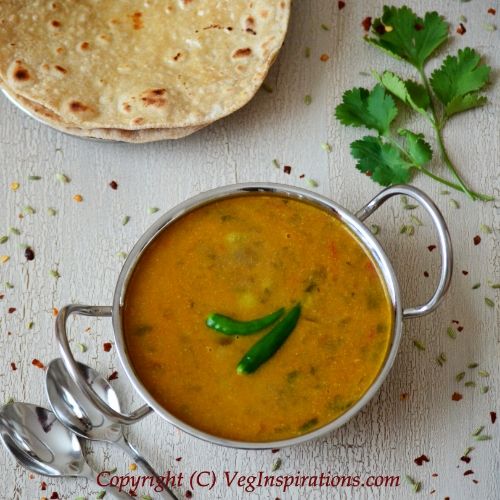 Click here for a printable view of this recipe
Ingredients and Method to make Lima Bean Kurma
1 large onion cut fine
3 small tomatoes cut fine
4 1/2 cups of frozen baby lima beans thawed to room temperature (= 1 lb of lima beans)
1/8 tsp turmeric powder
1/2 tsp red chili powder
1/2 tsp coriander (dhania) powder
1/2 tsp cumin (jeera) powder
salt to taste
2 tbsp oil
1/4 cup coconut milk (optional, see notes)
handful cilantro (coriander leaves) cut fine
Water as required ( I used approximately 1 1/2 cups of water)
For the masala
Dry roast
1 tsp cumin seeds (jeera/ jeeragam)
1 tsp fennel seeds (saunf/ sombu)
1 tsp coriander seeds (dhania/ kothamalli virai)
and grind this along with
3 Indian or Thai variety green chilies (or according to taste)
1 tsp chopped ginger (adrak/inji)
4 tbsp fresh or frozen grated coconut ( if using frozen thaw to room temperature)
1 dry red chili (optional ) or to taste
Dry roast cumin, fennel and coriander seeds until they start to slightly turn golden brown and give out an aroma. Remove, cool to room temperature and grind the seeds along with green chilies, ginger, coconut and dry red chili adding a few tsp of water as required until it turns to a fine paste. Keep this masala aside.
In a large heavy bottomed pan, heat oil, add onions and saute until onions turn transparent.
Add tomatoes and stir until tomatoes become soft and slightly mushy. Add turmeric powder, cumin powder, coriander powder, chili powder and stir once or twice.
Then add baby lima beans, water as required and salt to taste and allow it to come to a boil.
Then lower heat and allow this mixture to simmer for a while until the lima beans are cooked and soft.
The copyright of this content belongs to Veginspirations.com
Now add the ground masala, coconut milk (if using) and allow the kurma to simmer for a few minutes.
Remove from heat, garnish with cilantro and serve hot with roti (Indian flat bread) / plain steamed rice
Serves approximately 2 to 3
Notes:
The coconut milk is optional. I have made this curry both with and without the coconut milk and it tastes great either way, the coconut milk adds a little more richness and creaminess to the gravy, and without it the gravy feels a little lighter. If you plan to leave out the coconut milk, reduce the green chilies slightly if you wish as it can feel a little spicier without it, alternatively you can add about 1 tsp of sugar for this quantity of curry to balance the spices a little more.