Sometimes, even though I try and plan my meals around the vegetables I have on hand, I find that there are one or two veggies that go bad before I get to them. This frustrates and upsets me quite a bit because I feel guilty about the wastage. I try my level best to collect tips and tricks that increase the shelf life of veggies and fruits. I thought it may be useful to share some of these tips that I have picked up over time with my readers. In the interest of keeping this post to a reasonable length I am sharing just a few tips in this post, I will continue to share some more tips in my forthcoming posts. So here goes....
The best way to store celery is to remove it from plastic cover and firmly wrap it in aluminum foil and store in the refrigerator. I tried this one and the celery lasted a couple of weeks for me. I was not able to test it longer since I always tend to use up my celery in a couple of weeks time :-)
Honey dew and cantaloupe melons should always be stored separately as they react and rot faster if stored together. I realized when I came across this tip that I have never had a chance to put this one to test because I seem to purchase these melons one at a time and never together :-)
The third and last one is that leaving stalks on foods like tomatoes and strawberries lengthen their shelf life. I have tried this for tomatoes and it really does work.
Another idea that works for me is to use up veggies that I have in small quantities in making soup. This way the veggies that are not sufficient for a stand alone dish gets used up along with a lot of others and helps clear out the refrigerator.It also helps that soups are one of my favorite foods, especially when the weather is cold. We had some really cold weather last week when a storm system dumped snow in our area.This turned out to be the perfect occasion for this minestrone soup which just happens to be one of my favorites. I have made this soup often since the first time I tasted this at a restaurant and decided I loved the soup enough to try and make it at home. The recipe has evolved over time and this is how I make this soup regularly now.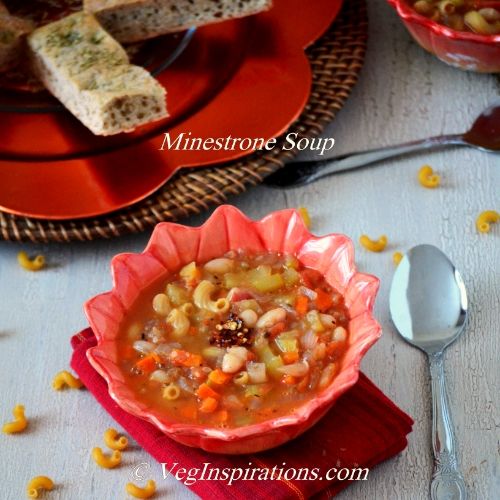 Ingredients and Method to make Minestrone soup
1/2 cup dried cannelini or any other white beans soaked in water with a pinch of baking soda for about 6-8 hours (the soda is optional) (alternatively you can use equal quantity of red kidney bean (rajma) )
1/2 cup any small type dried pasta (I usually use multi grain shell or elbow pasta for this soup)
4 stalks of celery (or 3 large zucchinis cut into 1/2 inch pieces)
freshly ground black pepper powder to taste (optional but recommended)
3 cups of water/ vegetable stock
Garnish with crushed red pepper to taste (optional)
Drain and rinse the soaked beans and place in a pot, cover with sufficient fresh water and let it simmer until the beans are cooked. ( I filled water for about 1/2 an inch above the beans and it was sufficient for me until the beans were cooked.) Or for faster cooking, cook the beans in a pressure cooker until soft yet not mushy.Keep the cooked beans aside
In a heavy bottomed pan heat oil and add onions and saute until the onions are transparent.
Add minced garlic and saute for a minute.Add tomatoes and saute until the tomatoes are cooked and are soft and mushy.
The copyright of this content belongs to
Veginspirations.com
Add carrots, celery if using or zucchini, Italian seasoning, salt to taste and about 3 cups of water or stock and let the vegetables cook.
When the vegetables are cooked and slightly soft, add the cooked beans and freshly ground black pepper powder and let it simmer for a few minutes (about 10 minutes) Add water to achieve required consistency
Add the dried pasta and cook for an additional 10 minutes until the pasta is cooked.
Serve hot with any bread of choice. I usually serve this with wheat rosemary focaccia bread
Serves approximately 3 to 4