This winter has been quite a bitter and cold one and even sunny days are often accompanied by cold winds so it feels pretty cold. When we have a sunny day without some wind chill, I feel like following the example of this bird.
I found this beautiful bird in my patio enjoying some sunshine on a sunny morning one weekend. Luckily I had my camera handy and I quickly managed to take a picture from the other side of a door. I was afraid I would frighten the bird away but I managed to get a pretty good picture. Now if I get a sunny day , I too want to bask in the sun for a while and forget about this intense winter we have had so far :-)
Speaking of winter, nothing appeals more to me, than a hearty bowl of soup with some crusty bread on a cold cold evening. This curried lentil soup was on my dinner menu for precisely that reason. This soup with its contrasting flavors, a little heat from the spices and a touch of sweetness from the coconut milk, was really quick to make and made for a perfect dinner on a chilly evening.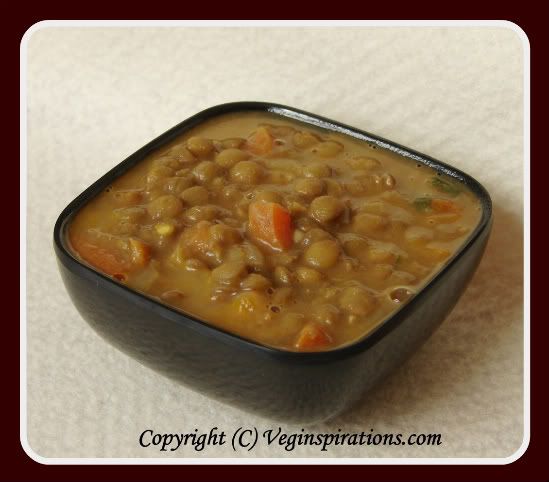 Click here for a printable view of this recipe
Ingredients and Method to make Curried Lentil Soup
1 1/2 cup whole brown lentils soaked in water for 30 minutes (see notes)
3 large carrots cut into 1/4 inch cubes (yielded 1 1/4 cup of cut carrots)
2 large tomatoes cut into 1/4 inch pieces (yielded 1 1/2 cups of cut tomatoes)
1 large onion cut fine
1/2 cup coconut milk
2 Thai or Indian variety green chilies slit lengthwise
2 tbsp oil
1 tsp minced ginger
1/2 tsp minced garlic
1/4 tsp turmeric powder
1 tsp red chili powder (or to taste)
1/2 tsp coriander powder (dhania)
3/4 tsp cumin powder (jeera powder)
salt to taste
handful cilantro for garnish
Place lentils in a large bowl, fill with water and allow it to soak for at least 30 minutes.
Drain the water and place the lentils along with fresh water enough to submerge lentils in a medium pan and cook on stove top until almost cooked. Alternatively place in a shallow microwave safe dish and cook on high in 2 minute increments until lentils are almost cooked.
Heat oil in a large heavy bottomed pan and add onions to it. Saute onions until transparent, then add cut tomatoes and stir until tomatoes are soft and mushy.
Add ginger and garlic and stir for a few seconds. Add turmeric powder, red chili powder, coriander powder and cumin powder and stir a few times.
Add carrots, a little water and allow the carrots to cook until soft.
The copyright of this content belongs to Veginspirations.com
Add almost cooked lentils, salt to taste and water as required to achieve required consistency and allow to simmer for five to ten minutes on low heat or until the lentils are fully cooked and the flavors blend together.
Add coconut milk, mix well and allow to simmer for a couple of minutes.
Garnish with cilantro and serve hot with bread of choice.
Serves approximately 2 to 3
Notes
You can use whole red lentils or whole masoor dhal instead of whole brown lentils for a slightly different texture and taste.
This lentil soup is off to this months edition of
MLLA being hosted by Superchef
originally started by
Susan