As I mentioned in
this post
, the responses to the soup event were really heartwarming. The entire process of hosting an event and the roundup was somewhat of a learning experience for me and I had fun with it. To decide the winner, I used random.org, a service that allows one to generate a random number that helped me select the winner of the gift. And the winner is............Meena of
Dakshin
. Meena, I hope you enjoy your
gift
, I will be in touch with you a bit later to get details of where to ship the gift.
Moving on, it has been quite a while since I baked banana bread. When I look back at all the different types of banana bread I have baked in the past, I find dates, raisins, cardamom flavored but not banana walnut bread. Banana walnut bread is a classic combination and I have no idea why I have never gotten around to baking it earlier. Anyway once I concluded I wanted to bake this bread I did not waste any time and got to it immediately. The result was the flavorful and delicious banana oatmeal bread that would be great for a breakfast on the go or as a snack at tea time or coffee time.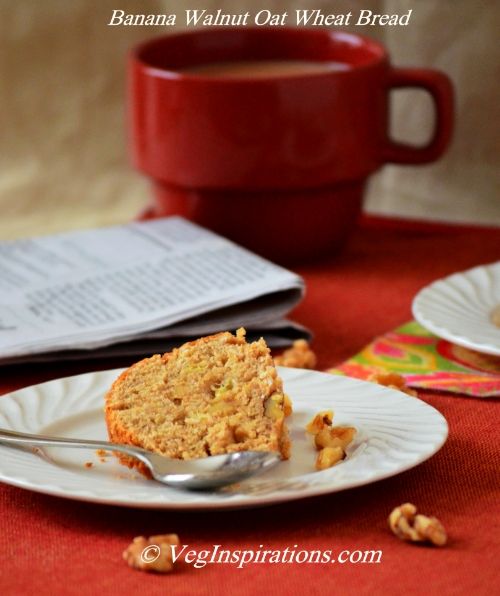 Here is another view of the bread....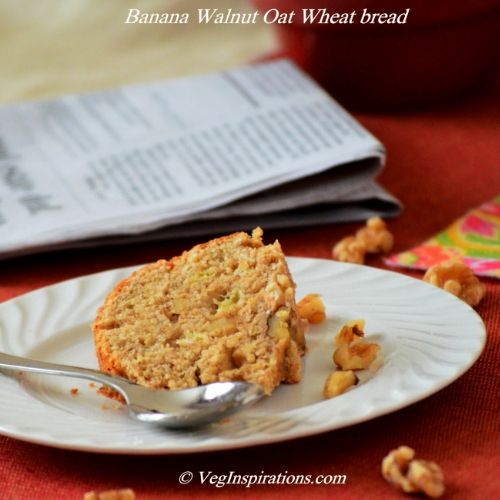 Click here for a printable view of this recipe
Ingredients and Method to make Banana Oatmeal Wheat Walnut Bread
Dry Ingredients
1 1/2 cup white whole wheat flour ( Read more about this flour
here
)
3/4 cup rolled oats
1/2 cup packed light brown sugar
1/2 tsp salt
1 1/2 tsp aluminum free baking powder (or any other baking powder)
1/2 cup walnut pieces toasted in the microwave for 1 minute
a dash of nutmeg
1 tsp cinnamon powder
Wet Ingredients
1/4 cup oil
3 large bananas mashed well (yielded 1 1/2 cups of mashed banana)
In place of 1 egg I used
1 tbsp apple cider vinegar+1 tbsp oil + 1 tsp baking powder mixed together
a few extra drops of oil to grease the loaf pan
Pre heat oven at 350 deg F. Grease the loaf pan and keep aside
In a large bowl add all the dry ingredients and mix well.
In a smaller bowl, mix together the bananas and oil and keep aside
In a small bowl mix together the ingredients mentioned under egg substitute. It will froth up a little so do this in a bowl that will have some room for the frothing.
Pour this entire mixture into the banana + oil mixture and mix once or twice.
Then pour the entire wet mixture into the dry mixture and mix well gently.
It will be just enough wet and will look slightly lumpy. Pour this mixture into the pre greased loaf pan and place in pre heated oven.
The copyright of this content belongs to Veginspirations.com
Bake 40 to 50 minutes or until a tooth pick inserted in the center comes out clean. I used a bundt cake pan in subsequent tries and it takes only about 30 to 35 mins when baking with a bundt pan, so keep an eye on this. Also if using mini loaf pans the baking time will be considerably less.
Cool and cut into slices and enjoy.
This bread can be kept at room temperature for a day or so, you can refrigerate the balance and use within a couple more days.
Notes
You can substitute the entire quantity of whole wheat flour with all purpose flour (maida) or half all purpose flour and half whole wheat flour
If you do not find white wheat flour than you can replace with half whole wheat flour (regular) and half all purpose flour (maida)