My mother used to make vaal curry often and it used to be one of my favorites with phulkas/ chappathis. I do not have her version with me, so I often make this simple and straightforward variation of my own, to go with phulkas.Vaal has a very unique taste of its own and with this simple flavoring, its taste just shines through.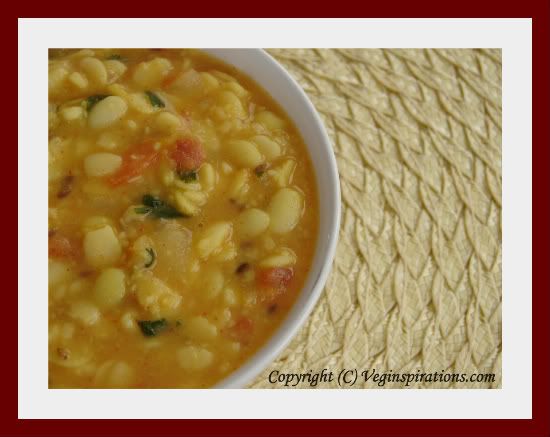 Here is a picture of the lentils.....
Click here for a printable view of this recipe

Ingredients and method to make Microwave Vaal curry

2 cups Split field beans or vaal lentil soaked in sufficient water for 30 minutes

1 large onion cut fine

2 medium tomatoes cut fine

1 tbsp oil

1 tsp cumin seeds

3 Indian or Thai variety green chilies cut fine (or according to taste)

1/4 tsp turmeric powder

salt to taste

1/2 tsp red chili powder (or according to taste)

handful cilantro (coriander leaves) cut fine for garnish

Place vaal along with water in a shallow microwave safe dish, place in microwave and cook on high for a total of about 24 minutes in 3 minute increments stirring every 3 minutes and adding water if required.

When vaal is cooked, it should be soft but not mushy and should retain its shape, remove vaal and place in another bowl.

In the same microwave safe dish, add oil and heat on high for about 1 minute. Then add cumin seeds and heat for 1 minute or until the cumin seeds begin to sizzle and crackle slightly. Add green chilies and cook on high for 1 minute.

Add onions and cook on high for about 2 minutes and 30 seconds or until onions begin to turn transparent.

Now add tomatoes and cook on high for 4 minutes, removing once in between to stir the tomatoes.

The copyright of this content belongs to Veginspirations.com

Now add turmeric powder, salt to taste, red chili powder and the cooked vaal and mix everything together.Add water if required to achieve desired consistency

Cook this on high for 4 to 6 minutes for the flavors to blend well.

Garnish with cilantro and serve hot with rotis/ plain steamed rice/ jeera rice

Serves approximately 3 to 4

Refrigerate the balance and use within a day, for some reason, vaal does not keep well so I usually make sure to consume this one quickly.

Notes

Microwave cooking times will vary based on the strength of the microwave so please use these times as a guide only and make changes to your times based on the strength of your microwave

You can make this on the stove top too, Just heat oil in a large heavy bottomed pan, add cumin seeds , when it splutters add green chilies, then add onions and saute until transparent, then tomatoes and saute until soft and mushy.Then add spices, vaal lentil, water as required and allow the lentils to simmer until cooked. Garnish and serve

This lentil does not do very well when cooked in the pressure cooker, it completely turns mushy, so I would suggest using either of the above methods to make this curry.

Vaal, I think, is the Indian term for field beans, I did not get a chance to check this one out, so if any of you know the exact English term for this, then please let me know.... In the Indian groceries here, I find both the whole vaal, which looks a little like the drier version of lima beans and the split vaal lentil which I have used in this curry. I have also added a picture of the dry vaal lentil below to make it easier for you to identify this lentil.