this article
, this harmless sounding Thai salad with shredded carrots, edamame and avocado served at California Pizza kitchen has just that many calories.
Whoa, I am so glad that I have never ordered this salad when I visited their restaurant in the past. If I ever want to consume more than a days worth of calories in one go, I sure would not be opting for a healthy sounding salad, I would much rather buy some dessert and satisfy my sweet tooth instead :-)
Speaking of Thai salad, here is one salad that will definitely definitely satisfy your taste buds without a whole lot of calories. I got the idea for this recipe in a Vegetarian Times cookbook I got from my library. I tweaked the recipe slightly to suit our tastes and also to adjust for availability of ingredients. We loved this salad and it appears on my menu almost weekly nowadays.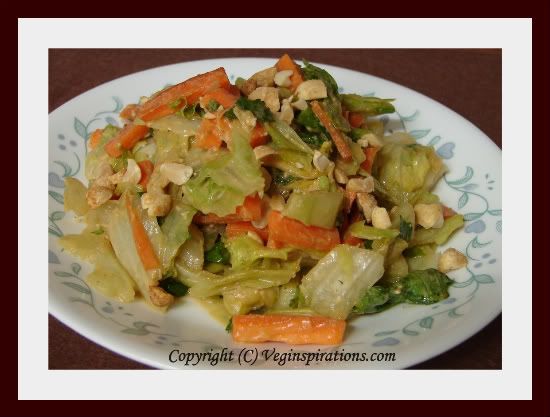 Click here for a printable view of this recipe
Ingredients and Method to make Thai Salad
For the dressing
4 tbsp heaped smooth and creamy peanut butter
4 tbsp water
1/2 tsp ground ginger powder (see notes)
1 tbsp low sodium soy sauce
1 tsp sugar
2 tbsp lemon juice
2 tbsp lime juice
2 tbsp (or to taste) hot chili sauce
4 tbsp dry roasted peanuts broken into small pieces
For the salad
1 medium head lettuce broken into small pieces
2 carrots cut into match stick size pieces
1 large cucumber peeled and cut into 1/4 inch pieces
handful cilantro cut fine
For the dressing,
In a large bowl, mix together all the ingredients required for the dressing and whisk together until it all blends. Keep aside.
For the salad
In another large bowl assemble the items mentioned for the salad.
Add half of the dressing and toss well. Add the balance if required and toss again.
Serve immediately
The copyright of this content belongs to Veginspirations.com
serves approximately 3 -4
Notes
If you are not particularly fond of ginger taste then you can scale down the ground ginger powder to 1/4 tsp instead of 1/2
The reason I am suggesting to use only half the dressing initially is because sometimes different sizes of lettuce are available, resulting in different quantities of salad, so use dressing as is required for the quantity of salad you are making. Refrigerate the balance dressing if any and use within a week or so.
This salad is off to the
Healthy Inspirations Event- Salads
currently going on at this site.
If you had to guess the total calories of a salad served at a restaurant, what would be your guess? Would you think the number would be 300 to 500 calories. If I had to guess, my estimate would be somewhere in the range of 500 calories. My wildest imagination would not have come up with the number of 2238 calories for salad. But according to